Indigo Film crime series, VR firsts, Sally Potter multimedia musical and Dilma Rousseff drama among projects heading to the Lido.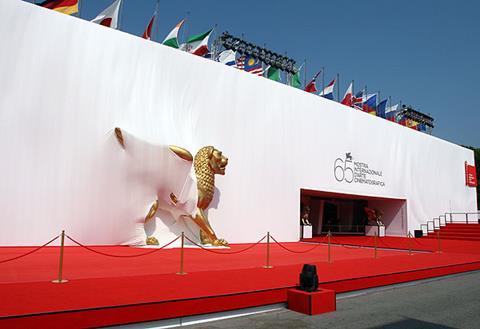 As Venice seeks to ramp up its industry profile, the festival's market head Pascal Diot has revealed further details of how this year's inaugural 'Venice Production Bridge' (September 1-5) will work.
Extra funds have been set aside by the Biennale for the initiative which, as reported earlier this year, will incorproate the existing market strands, among them Final Cut and the Gap Financing Programme.
"What we want to do with the Production Bridge is to offer as many services as possible to producers," Diot explained. "(Paolo) Baratta [president of la Biennale di Venezia] was keen on the market. He has been a great support. That's why when, for the 5th anniversary, we decided to propose something more, he said 'yes' right away.
More than 1700 accredited industry delegates are due to attend the festival. High-profile US delegates include Annapurna Pictures' CEO Megan Ellison, Stuart Ford of IM Global, Avi Lerner from Nu Image-Millennium and John Sloss of Cinetic.
Accommodation on the Lido itself remains strictly limited but the festival is putting up many of its 150 invited industry guests in San Marco, a 20 minute trip by water shuttle on Line 20 (free of charge for accredited visitors.)
Sally Potter, Annemarie Jacir
Instead of 15 European projects, the Gap-Financing market now has 40 international projects with a focus on completion funding. These include feature-length fiction films and feature documentaries, TV Series, 8 projects for films to be produced as Virtual Reality & Interactive experiences and 3 projects for Web Series.
Some prominent names are involved. Christopher Sheppard, producer and CEO of Adventure Pictures, will be on the Lido to present Oh Moscow, the new interactive multimedia musical about the Cold War from noted British director Sally Potter (Orlando).
Petra Costa will be presenting her feature documentary, Impeachment - Dois Pesos, Duas Medidas, about the tribulations of Brazilian president Dilma Rousseff, elected by 54 million votes but now facing impeachment.
Annemarie Jacir will present Palestine-Euro co-production Wajib and Eran Kolirin will present Let It Be Morning, both previously announced by Screen.
TV and VR
The market is also embracing TV and VR.
"We are following the general trend. Most producers now are not limiting themselves to film any more. They are also producing TV series and so on. The borders are thinner and thinner," Diot said of the decision to invite delegates from ARTE, ZDF, Vice and the BBC, among others.
The festival itself has a long record of showing projects made originally for TV. It screened Lars Von Trier's The Kingdom in 1994, HBO's Mildred Pierce in 2011 and will this year be showing episodes of Pablo Sorrentino's TV series, The Young Pope.
Among this year's TV projects in the market, Youth and The Great Beauty producers Indigo Film will present thriller crime series Nemesis, from the writers of drama 1992.
This year's VR projects include Nomads, birth experience Our Baby, sci-fi war experience Trinity and The Future Of Forever: Welcome To The Other Side, described as 'the first immersive experience in which you live, experience, and survive your own death.'
Venice will also screen a 40-minute preview of Jesus VR - The Story of Christ, a virtual reality film which is being dubbed by its producers as the first feature-length VR film ever made. The screening will be held in a new 'VR Theatre' at Venice's Casinò, which will be equipped with 50 VR headsets for individual viewing on seats that pivot 360°.
Book adaptation market
This year, Diot has also launched a "Book Adaptation Rights" market, to which 15 leading publishing houses have been invited. Rather than select individual books, Diot has asked the publishers and reps attending (among them Gallimard, De Agostini and Andrew Nurnberg Associates) to "come with their catalogues and libraries."
Meanwhile, many financiers and national and regional funds are expected, among them Cofiloisirs, Wallimage, Casa Kafka, Canada Media Fund, Mofei Pictures (Beijing) and Film- und Medienstiftung NRW.
There will again be a large Chinese delegation at the market with the Shanghai Film Festival and China Film Promotion both taking stands and there will be a number of panels focusing on Chinese industry.
Workshops will tackle key challenges facing the European audiovisual industry in the face of the Digital Single Market and rapid technological shifts.
As Diot acknowledges, there are many other film markets and coproduction initiatives around the world. But this year Venice is really trying to stand out from the crowd.
"Out of the 150 coproduction markets that exist in the world, I would say that 149 focus on development," he noted, pointing out that Venice is one of the few events that focuses on the completion of films. "I do know that today it is as difficult to complete a film as to start and develop it."