Yahoo, one of the original internet giants that was valued at $125bn at the height of the dotcom boom in 2000, will sell for a fraction of that amount if shareholders and regulators approve the deal.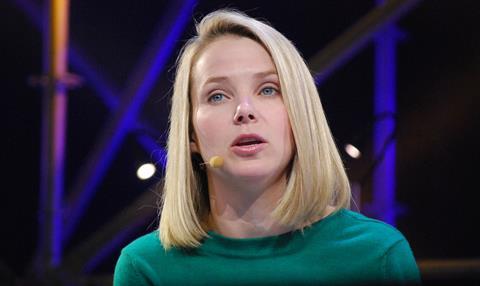 Confirmation on the $4.8bn bid is expected by early 2017 and follows Verizon's $4.4bn acquisition in May 2015 of AOL, another former giant whose star has fallen.
Analysts speculated on Monday that the telecoms behemoth views the deal – which does not include Yahoo's 15% stake in Alibaba – as a way of targetting a greater share of the digital advertising market dominated by Facebook and Google.
Should the deal go through, Verizon said Yahoo would continue to exist. The former will be able to combine its infrastructure and data on existing phone customers with Yahoo's content and the approximately one billion monthly active users as it becomes a force in mobile media.
These include roughly 225m email service users, according to reports, as well as around 600m who access Yahoo via mobile devices for search and communications functions, as well as other digital products.
Yahoo also owns Tumblr, the blogging platform popular among Millennials that is bought for $1.1bn in 2013, although whether Yahoo holds on to it or spins it off remains to be seen.
Current Yahoo CEO Marissa Mayer [pictured] is expected to remain in her position for the time being and analysts did not expect lay-offs in the foreseeable future.
If the deal goes through the company will rename itself and serve as a holding company for the Alibaba stake and other interests.
Since Mayer assumed her role four years ago the company has continued to struggle. It reported a $4.4bn loss last year and last week Yahoo reported a $440m second quarter loss.
Yahoo rejected a $44bn offer from Microsoft in 2008.
Private equity firm Apollo Global Management has signed a $1.6bn deal for Outerwall, owner of ailing DVD company Redbox.