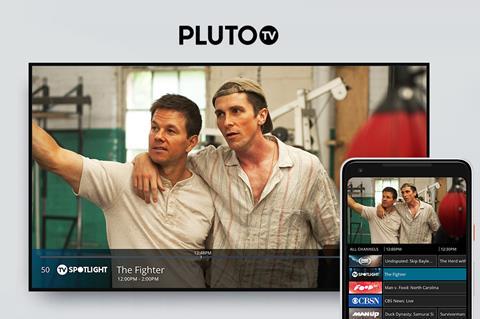 Viacom is set to join the streaming wars after announcing a deal to buy US free streaming service Pluto TV for $340m in cash.
The US media giant – whose assets include Paramount Pictures, MTV, the UK's Channel 5 and other TV properties in Europe and Latin America – said the deal will allow it to expand its presence in next-generation distribution, unlock library value and leverage its international reach.
In particular, Viacom said, the deal creates an opportunity to launch a Spanish-language streaming offering in the US and Latin America.
The deal comes a week after NBCUniversal announced plans for an ad-supported streaming service that will be free to its pay-TV subscribers in the US and international markets. Rival media giants Disney and Warner are both preparing to launch subscription-based streaming services later this year.
Founded in 2013 as an OTT service aimed at cord-cutters, Pluto TV currently streams more than 100 channels and on-demand content including television and movies, sports, news and lifestyle programming. It claims more than 12m monthly active users and says recently signed distribution deals will soon make it available on tens of millions of additional devices.
Last October, Pluto announced plans to launch in Europe, starting in the UK through Sky's streaming platform Now TV.
Viacom said the deal will advance its strategic goals by giving it access to millions of younger consumers and allowing it to monetise library product, though it stressed that its latest programming will remain on its branded pay-TV networks. The company said Pluto will benefit from "Viacom's strategic decision to curtail the licensing of large library packages to SVOD over the last two years."
Viacom president and CEO Bob Bakish commented: "As the video marketplace continues to segment, we see an opportunity to support the ecosystem in creating products at a broad range of price points, including free. To that end, we see significant white space in the ad-supported streaming market and are excited to work with the talented Pluto TV team, and a broad range of Viacom partners, to accelerate its growth in the US and all over the world."
Pluto TV CEO and co-founder Tom Ryan, who will remain in his post, added: "Since our launch less than five years ago, and particularly over the past year, Pluto TV has enjoyed explosive growth and become the category leader in free streaming television. Viacom's portfolio of global, iconic brands and IP, advanced advertising leadership and international reach will enable Pluto TV to grow even faster and become a major force in streaming TV worldwide."