The festival's industry event featured 20 work-in-progress projects.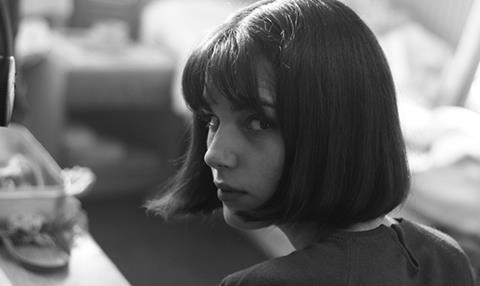 Bulgarian filmmaker Svetla Tsotsorkova's Thirst and the Czech directorial duo Petr Kazda and Tomás Weinreb's I, Olga Hepnarova [pictured] were declared joint winners of the Best Film in the New Europe - New Names competition at this year's Vilnius International Film Festival (March 31 - April 14).
Speaking at the awards ceremony in the Lithuanian capital's historic National Philharmonic Hall, International Jury member and Chilean film critic Pamela Biénzobas explained that the splitting of the top prize was "to acknowledge the diversity of cinematographic styles."
Other awards included best acting prizes to Thirst's Monika Naydenova and Our Everyday Life's Uliks Fehmiu, and Best Director to Poland's Agnieszka Smoczynska for her feature debut The Lure.
Meanwhile, the Best Film honour in the Baltic Gaze competition was won this year by Vitaly Mansky's documentary Under The Sun ahead of such titles as Tomasz Wasilewski's United States of Love, Ignas Miskinis's King's Shift, Thomas Vinterberg's The Commune and Hanna Sköld's Granny's Dancing On The Table.
Coming Soon Showcase
Vitaly Mansky's latest documentary, Close Relations. Ukraine, The Crisis, My Family And I, was among 20 projects presented in a Coming Soon showcase at the seventh edition of the festival's industry event, Meeting Point Vilnius (MPV).
Producers Simone Baumann (Saxonia Entertainment) and Guntis Trekteris (Ego Media) explained that Mansky's portrait about his family living in different parts of Ukraine was now in post-production after having been shot in Lvov, Odessa, Donetsk and Crimea between spring 2014 and autumn 2015.
The co-production between Latvia, Estonia, Germany and Ukraine will be handled internationally by Leipzig-based Deckert Distribution, the sales agent of Under The Sun.
Meanwhile, Planet Korda Pictures' Jeremiah Cullinane revealed that Swiss-based sales agent First Hand Films has taken on international distribution for Lithuanian director Olga Cernovaite's Butterfly City about the town of Visaginas which was created in the 1970s to service a Soviet nuclear power plant.
The Lithuanian-Irish-Danish co-production had previously been presented at Trieste's When East Meets West, Moscow Business Square and Nordisk Panorama.
From Sirk to Dostoyevsky
In addition, local producer-director Romas Zabarauskas unveiled the first footage of his second feature You Can't Escape Lithuania which he describes as being influenced by Douglas Sirk, New Queer Cinema and Dostoyevsky.
Lithuania's only openly gay filmmaker told Screen that post-production had only been completed last week on the film which is being handled internationally by UK-based John Flahive of Wavelength Pictures who also served as a co-producer on the low-budget production.
You Can't Escape From Lithuania had also been the subject of the biggest crowdfunding campaign in Lithuania, with Zabarauskas sending out nude photos of himself to raise funding from Kickstarter and attracting additional backing via Indiegogo by having the film's crew accept a vegan challenge during the shoot.
Other 'works in progress' titles set to be completed in the coming months included the animadoc The Man Who Knew 75 Languages by Anne Magnussen and Pawel Debski, Vallo Toomla's drama Pretenders, and Ivars Tontegode's documentary Knutification about and with the Latvian poet Knuts Skujenieks.
Rebates and Festivals
The 2016 edition of Meeting Point Vilnius also featured roundtables on regional co-production between Lithuania and Poland and the cash rebate schemes in Lithuania, Latvia and Estonia as well as a symposium on the economic impact of film festivals on their communities and the film industry and strategies for working with sponsors.
Estonia's cash rebate scheme was only launched at the beginning of this year, but has already made its first decision under the Film Estonia support scheme, awarding €350,000 to the historical feature film Eternal Road by Finnish director A J Annila which will be shot entirely in Estonia this summer.
The co-production between Finland's MRP Matila Röhr Productions and Tallinn-based Taska Film has a budget of €2m, with foreign inward investment to Estonia amounting to almost €1.17m and thus generating the 30% cash rebate.
Meanwhile, at a discussion on film festivals' economic impact, Cristian Hordila, manager of Romania's Transilvania International Film Festival (TIFF), reported that a study commissioned from a local university in the region revealed that TIFF had an estimated impact of €7.5m on the local economy.
According to Hordila, the study "confirms that TIFF is a local brand and a priority cultural project for the city, and the figures show the economic development that the festival generates: tourists, revenues and visibility for all our partners and the local community in general."
Participants in the two-year study also suggested that TIFF has an impact on the local cultural scene in Cluj, offering alternative leisure activities as well as increasing the level of education and culture and contributing to the cultural life of the city and the local culture.
The 15th edition of TIFF will be held from May 27 to June 5, 2016.