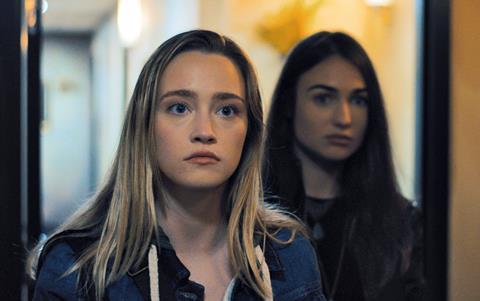 Voltage Pictures has added another commercially appealing title to its Cannes market slate, boarding worldwide sales on English-language J-horror Room 203 from Japan's Ammo Inc. and California-based Ammo Entertainment.
UK director Ben Jagger's (Corbin Nash, The Paddy Lincoln Gang) feature is adapted from Nanami Kamon's Japanese novel and follows two female roommates tormented by vengeful spirits dwelling in their gothic-style apartment which contains an ornate centrepiece.
John Poliquin (Shudder's Spiral), Jagger and Nick Richey (Low Low) co-wrote the screenplay. The cast features Francesca Xuereb (Murmur, Forever & Always), Viktoria Vinyarska (The Real Drakoolvas, Highway To Havasu) and Eric Wiegand (Outsiders, Boys Will Be Bastards).
Room 203 shot in Shreveport, Louisiana, and is currently in post-production. Ammo Entertainment's Annmarie Sairrino and Ammo Inc.'s Moeko Suzuki are producing alongside Kat McPhee, Ben Anderson and Eric Gibson. Voltage's Babacar Diene serves as executive producer.
J-horror has spawned a number of English-language remake hits including The Ring starring Naomi Watts which grossed more than $250m worldwide, and The Grudge starring Sarah Michelle Gellar which earned more than $187m globally.
"English adaptations of the J-horror genre have produced some of the most iconic and successful horror films of the past 20 years, and Room 203 absolutely delivers on the well-crafted thrills of its predecessors," said Voltage president and COO Jonathan Deckter. "We're thrilled that our friends at Ammo have entrusted us in sharing this tense and taught horror with our international buyers, who know first-hand the box office power of an elevated horror of this quality."
Tokyo-based Ammo Inc. run by CEO Suzuki develops, finances and produces features and content across all platforms for the global marketplace, and focuses on strategic partnerships between Hollywood and Japanese companies based on commercial properties. Its productions include Root Letter, based on the Kadokawa Games visual novel.
Ammo Entertainment is run by Sairrino in Burbank, California, and recently acquired the film library and intellectual property of Akatsuki Entertainment, the film arm of Japanese game company Akatsuki.
Earlier this week Voltage announced it will commence international sales at the virtual market on action heist thriller The Yacht starring Ruby Rose, Patrick Schwarzenegger, and Frank Grillo. Saban Film holds US rights.