The chain has said the film will surpass its current pre-sales record before its release on Dec 17.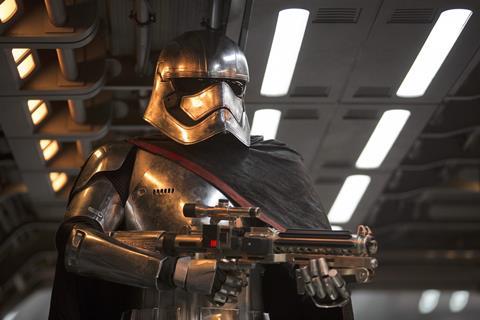 Vue Cinemas, the UK's third-largest cinema chain, has revealed its pre-sales figure for Star Wars: The Force Awakens.
The company has sold 238,000 tickets to date, with two weeks still to go before the film's release on December 17, making it the fastest-selling film in Vue's history.
The chain's overall pre-sales record stands at 270,278 for Fifty Shades Of Grey earlier this year, but The Force Awakens is likely to surpass that number within the next week.
A Vue spokesperson said: "2015 has been an incredible year for the film industry. UK cinema admissions in the first three quarters of 2015 were over 122 million, which is a 7% rise year on year from 2014."
Speaking to ScreenDaily, the spokesperson added: "The story [of The Force Awakens pre-sales] is the same worldwide with one ticket being sold every two seconds in Poland, and three times more traffic hitting our Dutch equivalent in the Netherlands. With two weeks to go until launch, ticket sales look set to increase."
Odeon UCI and Cineworld, the UK's other major multiplex chains, have yet to release concrete pre-sales numbers, but those company's figures are likely to be even higher.
Last week, ScreenDaily reported that exhibitors were predicting Star Wars: The Force Awakens to become the biggest film of all time in the UK.