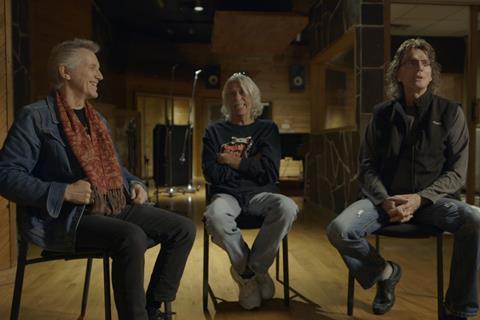 WaZabi Films has boarded worldwide sales excluding Canada on documentary Triumph: Rock & Roll Machine ahead of its world premiere at Toronto International Film Festival (TIFF) next week.

Sam Dunn and Marc Ricciardelli directed the film about the Canadian rock trio that rose to fame in the late 1970's and early 1980's before their abrupt departure.
The film, set against a backdrop of spandex, glam hair and pyrotechnics, explores fame and the human condition as the band reunites for what might be the last time. Banger Films produced Triumph: Rock & Roll Machine in association with Revolver Films.
The documentary receives its world premiere in Special Events on the evening of September 10 at RBC Lakeside Drive-In at Ontario Place, after screening in-person for press and industry earlier in the day. Crave holds Canadian rights.
Scot McFadyen, Dunn, Marc Ricciardelli and Ralph Chapman served as producers, while Dunn, Scot McFadyen, Randy Lennox, Don Allan and Martin Katz are executive producers.
Dunn directed Metal: A Headbanger's Journey, Rush: Beyond The Lighted Stage Super Duper Alice Cooper and Hip-Hop Evolution, and Ricciardelli directed Heavy Metal Hitchhiker.
"The Triumph story was compelling to me, Marc, and the Banger team because it was an opportunity to piece together a broken puzzle," said Dunn. "We wanted to know how and why the band dissolved at the peak of their powers. We're thrilled to be back at TIFF for the world premiere of this film."
"We are excited to bring this part of Rock & Roll legend to music and documentary lovers around the world," said WaZabi co-president Lorne Price. WaZabi co-president Anick Poirier added, "We are confident that this fantastic documentary will be one of the most talked about films at TIFF this year."
As previously reported on Screendaily, Montreal-based WaZabi Films will launch sales at TIFF on world premiere selections Maria Chapdelaine from Sébastien Pilote and Ivan Grbovic's Drunken Birds (Les Oiseaux Ivres).