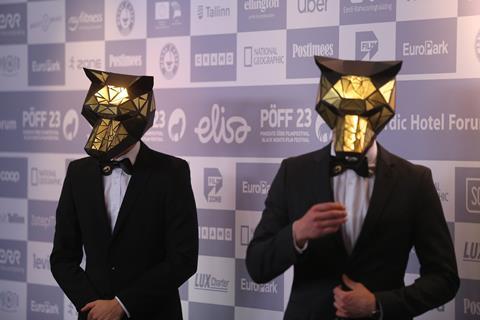 Fresh films, homegrown talent and optimism for the future fired up guests at this year's Black Nights Film Festival in the Estonian capital of Tallinn.
Mike Newell, the UK drector of Four Weddings And A Funeral and Harry Potter And The Goblet Of Fire, was on the main jury that considered 21 features. He told Screen: "The selection of films has been extremely rich and enormously varied, coming from all over the world. There's only one English-language film [in the main competition] and I'm sure many could perform internationally."
He highlighted the "wonderful" Vietnamese crime drama Drowsy City, which marks the second feature of Dung Luong Dinh, and Iranian drama When The Moon Was Full by Narges Abyar, which Newell labelled "unbelievably courageous".
Japanese drama Kontora, which marks the second live-action feature of India-born Anshul Chauhan and follows a teenager who searches for a mysterious trove, guided by her grandfather's WWII-era diary was another title that had guests swapping positive reviews at the central locations of the Nordic Hotel Forum and Coca-Cola Plaza theatre.
Aleksei Kamynin's Russian Spleen, which received its world premiere in the Rebels With a Cause strand, had a packed cinema roaring with laugher while Tanel Toom's Truth and Justice revealed to international audiences why the film has broken box office records in Estonia with its epic story of relationships and rivalries set in the late 19th century.
On the documentary front, there was repeated recommendations to see Sergei Loznitsa's State Funeral, which explores the national impact of Soviet Union leader Joseph Stalin's death in 1953 and debuted at Venice.
Other critical favourites included Isaac, from Lithuanian director Jurgis Matulevičius; Wayne Wang's Korean drama Coming Home Again; British coming-of-age drama Looted, the feature debut of Dutch filmmaker Rene van Pannevis; offbeat comedy A Family, from Australian director Jayden Stevens; and Jorunn Myklebust Syversen's Norwegian dancer drama Disco.
Homegrown talent
The festival has also become a hot spot for upcoming Baltic talent, with the Black Nights Stars initiative selecting six rising actors on the verge of breaking through internationally and an additional 30 other local performers receiving one-on-one meetings with casting directors, talent agents and other industry experts.
Talent agent Robin Hudson signed Estonian actress Ingrid Margus to London-based Olivia Bell Management during the festival. Margus has appeared in two features of Estonian comedy franchise Klassikokkutulek as well as securing TV roles.
"Having worked in casting around Europe, what has always struck me is how distinctive styles can be - both in front of the camera and off," said Hudson. "The talent we've encountered at this festival not only showed us wonderful work but also an eagerness to learn and develop, with actors keen to gain as much knowledge as possible."
"I'm happy to have already started working with actors of the region as a result of the programme and Ingrid is a very exciting rising star in the region. I can't wait to introduce her to a wider audience and for people to recognise stars from the Baltic states all over the world."
New studio provides real optimism
There was palpable relief from local industry that a major film studio complex in Tallinn has finally been given an opening date after years of talk.
Tallinn Film Wonderland will be constructed in the northern part of the city, rejuvenating an industrial wasteland on the Paljassaare peninsula, and is set to open in January 2022.
It is building on a huge boost of momentum generated by director Christopher Nolan, who shot scenes for his latest feature, Tenet, in Tallinn. The name of the film was heard daily throughout the festival as the industry expressed excitement that a production of that scale had filmed in the city. Tallinn's deputy mayor Aivar Riisalu spoke of "seizing the opportunity" presented by international film productions who may follow in Nolan's footsteps.
Allfilm's Ivo Felt, the veteran producer of Oscar-nominated Tangerines as well as Truth And Justice, said: "It is hard to overestimate the importance of this to the local industry. We will soon be able to service foreign productions and shoot our own films on a totally new level."
The 23rd edition ran November 15 to December 1, showcasing 200 features and eight TV series, with films originating from 77 countries. The festival also achieved a record 31 world premieres and 31 international premieres. There were also 1,400 accredited guests, a 20% rise from last year's 1,161.