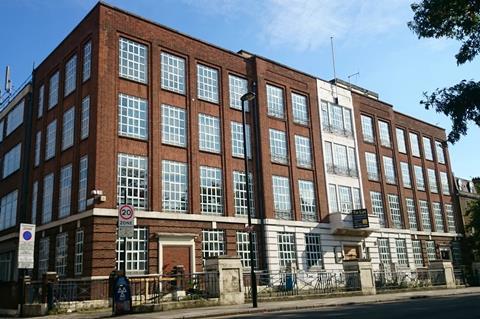 Working Title's Eric Fellner and Tim Bevan participated in a TIFF talk on Monday in which they discussed their motivations for backing a new London sixth form college which will have a specialism in film.
The Four Weddings And A Funeral and Love Actually producers, in Toronto with Victoria And Abdul and Darkest Hour, submitted a planning application for the facility to Islington Council in July of this year.
The company will sponsor (its financial commitment is unknown) the free sixth form college in north London in a bid to help foster new generations of skilled workers in the industry and boost diversity.
The Working Title School, which is due to eventually host 1,000 16-19 year-old pupils, will be located in Ladbroke House, the site of the former Metropolitan University building in Highbury Grove, which has been empty since 2015.
"We go to film production studios and they are not diverse," Bevan said. "That is not right. We realised we had to go back and start at the education level."
Fellner added: "We want to ensure we get an absolutely diverse set of students from diverse backgrounds into the industry. We don't have a quick fix but we want to help them realise the opportunities in the hope their voices will multiply."
'Working Title passport'
Alongside a broader curriculum with a focus on creative and digital-oriented courses, students at the institution would learn hands-on skills needed for working in the film industry and have access to the 'Working Title Passport', which will give them access to a range of activities suited to individual screen industry interests.
The site, purchased by the government for £33m, is expected to include a film production studio, workshops and supporting facilities and a new rooftop courtyard with film theatre and views over London.
Providing the application gets the greenlight from local authorities, construction could get underway towards the end of the year on the college, which will be run by the Meller Educational Trust, owned by Tory party donor and property developer David Meller. It is unlikely to open before 2019.
The project was initially conceived as a secondary school and college for 11-19 year-olds but that idea was ditched following complaints from local residents about the impact on two neighbouring schools. The college is expected to take children from across London.
'Mad' Brexit
During the Guardian-sponsored Toronto session Fellner and Bevan also addressed potential challenges thrown up by Brexit.
"It will be a pain, we'll see whether it affects the way stories are told," said Fellner.
"When you look at cast and crews, they are made up of people from all around the world," added Bevan. "That may not be the case in a few years' time."
"It seems mad, but we are not politicians," quipped Fellner.