Fond also backs two TV serires and Lisa Langseth's new feature.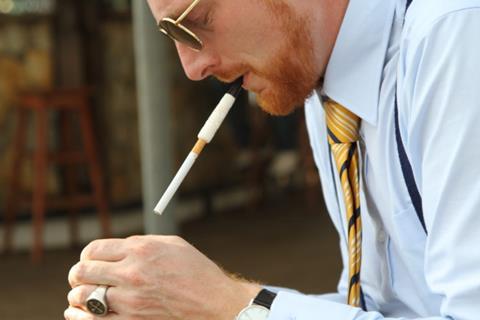 In its June round of funding, Nordisk Film & TV Fond supported seven new projects, including its largest ever production grant for a documentary, $118,000 (NOK 1m), to Mads Brügger's [pictured] Cold Case Dag Hammerskjöld.
The Danish documentary is produced by Peter Engel of Wingman Media, in co-production with Norway's Piraya Film, Sweden's Laika Film and Belgium's Associate Producers. Again with his unique style also on camera The Ambassador director Brugger reopens the case of legendary former UN Secretary Dag Hammarskjöld who died in a plane crash in Northern Rhodesia in 1961.
DR handles world sales on the film, which will be delivered in 2017.

The Fond also supported these projects in its latest round:
A Modern Man (documentary) $56,000 $231,000 (NOK 500,000) Produced by Danish Documentary and directed by Eva Mulvad, this film is an existential journey with violinist and model Charlie Siem.
Rides Upon the Storm (TV series, 10x58') awarded (NOK1,9m). The Danish drama series is produced by Camilla Hammerich for DR Drama, in co-production with ARTE and SAM Lefrançais, in association with StudioCanal, which handles world sales. Showrunner Adam Price is co-writer with Karina Dam and Poul Berg. Kaspar Munk is concept director. Inspired by the myth of Abel and Cain, the series explores the concept of faith. The cast features Lars Mikkelsen, Ann Eleonora, Simon Sears and Morten Hee Andersen. It will begin its broadcast on DR in autumn 2017.
Zombielars (TV series, 13x15') awarded $236,000 (NOK2m) A TV series targeting 8-12 years-old produced by Ane Bergseng and Gisle Halvorsen for Tordenfilm, and directed by Atle Knudsen. Thomas Seeberg Torjussen is creator/writer.
Euphoria (feature film), awarded $295,000 (NOK 2.5m) The film directed by Lisa Langseth is produced by B-Reel Films, in co-production with Alicia Vikander's Vikarious Productions in the UK and Dancing Camels in Germany. It's the story of two sisters (Vikander and Eva Green) aiming for reconciliation at the edge of existence. SF Studios handles Scandinavian distribution.
Jeg er William (feature film), awarded $118,000 (NOK1m) Produced by Sara Namer of Meta Film with Jonas Elmer directing based on a script by Kim Fupz Aakeson. The story focuses on William (11) who has to save the day for his broken family. To shoot in September with delivery in Agust 2018. SF Studios handles distribution.
What a Circus (feature film) awarded $177,000 (NOK1.5m) The film produced by Asta Film is directed by Lotte Svendsen and pays homage to the magic of the circus.