EXCLUSIVE: Trio of projects garner praise from industry; dates set for Cannes producer pitching event.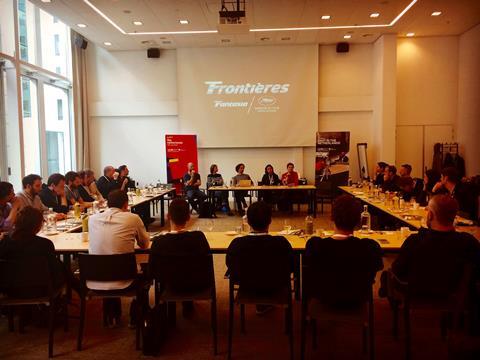 The Cannes Marché has revealed details about the recently finished first edition of the Frontières Finance and Packaging Forum in Amsterdam (Feb 16-18) and the upcoming second session during the Cannes Film Festival (May 17 -28).
The second instalment in the genre pitching and networking event will take place on Saturday May 20 (10am-12pm) when the 12 Forum projects from international producers will have five minutes each to present and screen their proof of concepts to international industry in Palais K.
The event will mark the Marché's first genre-specific proof of concept screening session.
Other Frontières Platform events in Cannes will include Frontières Goes to Cannes, a screening of footage from four work-in-progress films on Sunday May 21, and networking event Fantastic Fanatics Mixer.
Sponsor partners to join the Platform include Wallimage and the Nordisk Film & TV Fond. Existing backers include Creative Europe MEDIA and the Netherlands Film Fund.
Projects
Among projects in the Forum are features from directors Julie Baines (Detour) and Rachel Talalay (Sherlock) and producers Sophia Lin (Take Shelter), Jonathan Bronfman (The Witch), Katie Holly (Love And Friendship) and Phyllis Laing (The Haunting In Connecticut).
According to organisers, among the most strongly received proof of concepts in Amsterdam were Holly's Extraordinary, Zack Winfield's sci-fi The Existence Of Liberty White and Olmo Figueredo's thriller Animas.
Companies to attend the Amsterdam pitches included CBS Films, IFC Films, Magnolia Pictures, Motion Picture Capital, Soda Pictures, Vertigo Releasing, Universal Pictures International, and XYZ Films.
The Forum also featured a case study of past Frontières project Raw (a Cannes 2016 hit) by Julia Ducournau with producers Jean Des Forêts (Petit Film) and Jean Yves Roubin (Frakas Productions), who met at the 2014 edition of the Frontières market in Brussels.
"Expanded networking opportunities for genre"
Jérôme Paillard, executive director, Marché du Film, Festival de Cannes, said:
"The Amsterdam Forum brought together a very high level of expertise within the group of 60 professionals present for three days. The projects all in advanced stage of development took advantage of the participation of these seasoned experts invited to focus on this qualitative selection of projects. We look forward to welcoming them all at the Marché du Film in May."
Julie Bergeron, head of industry programmess at the Marché du Film, added: "We are very excited to present, for the first time in Cannes, a "proof of concept" screening of high quality genre films. Mark your agenda for the morning of Saturday May 20!"
Lindsay Peters, director of Frontières & industry director at the Fantasia International Film Festival, commented: "After eight editions of our co-production market, this collaboration with the Marché du Film will bring Frontières to a new level and provide expanded networking opportunities for the genre community.
"The Forum in Amsterdam is our first step in creating a new format for collaborative development and financing strategies for genre films, which will continue in Cannes at the Platform events, as well as at the Fantasia market in July."
The ninth edition of the Frontières International Co-Production Market will take place July 20-23 at Fantasia in Montreal.