EXCLUSIVE: Nanda Costa, Roberta Rodrigues star in Rio Carnival rom-com.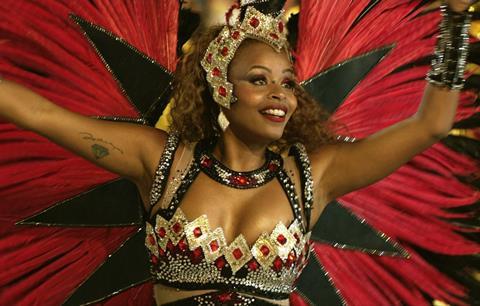 Rio-based Total Entertainment is in post-production on Rio Carnival romantic comedy Apaixonados, produced with local Disney label Miravista.
Budgeted at $1.5m (R$6m), Apaixonados was partially shot during the last Carnival, in February, capturing images of the parade of Grande Rio, one of the top samba schools in the Brazlian city.
Directed by Paulo Fontenelle, known for comedies Diva a Dois (2015) and Se Puder… Dirija (2013), the film portrays three love stories born during Carnival in Rio.
The cast includes City of God actress Roberta Rodrigues and Nanda Costa (Rat Fever).
Costa portrays a samba school flag bearer who is torn between her responsibility to parade during Carnival and concern for her ailing father (Roberto Bomfim), whom she takes to hospital only to fall in love with a doctor (Raphael Vianna).
Rodrigues plays a hairdresser from the favelas who meets a rich man (John Baldesserini) during a Carnival street party while an American tourist (Danilo de Moura), who hates samba, is forced to experience the Carnival with two new friends (Evelyn Castro and Lidi Lisbon) after missing his flight back home.
The film is scheduled to open in Brazil next year, in January, and Total is looking to attach an international sales company.
"Ironically Brazilian cinema often doesn't take full advantage of the cultural richness of the country's Carnival festivities," said Walkiria Barbosa, executive director of Total Entertainment, a company known for some of the highest-grossing domestic rom-coms in recent years, including Daniel Filho's If I Were You 2, which recorded 6.1 million admissions in 2009.
"Thanks to the international appeal of the film, which captures the magic of Carnival on screen, we produced Apaixonados in partnership with Miravista," added Barbosa, who hopes the partnership will help open some international doors for the film.
To start generating buzz around the feature, Barbosa showed footage of Apaixonados to foreign industry at the 17th Rio de Janeiro International Film Festival, which ends today (Oct 14).
Barbosa is the executive director of the festival and the director of RioMarket, the business section of the event.
The executive is also aiming to give the film an off-piste screening during next year's Cannes Film Festival.
"As a romantic comedy the film is unlikely to be in the official selection. But that shouldn't stop Apaixonados from being seeing in Cannes, preferably in the presence of a Grande Rio percussion band," she added.