EXCLUSIVE: Collection of shorts due to screen as omnibus film at German and Israeli festivals in 2017.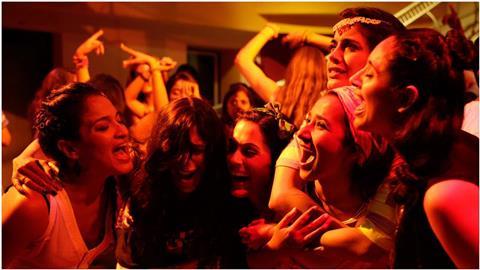 Berlin production house One Two Films (Angry Indian Goddesses) and Ramat Gan-based GREENproductions (Youth) have been recruited as partners for the inaugural German-Israeli documentary programme Out Of Place, initiated by the Gesher Multicultural Film Fund (GMFF).
The incubator programme – which has also received support from social campaigners ANU-Making Change and the European Union's INTERREG IVB North West Europe Programme – is looking to select 20 young filmmakers from Israel and Germany to develop and produce ten short documentary films depicting stories and situations where people or communities feel excluded, invisible or marginalized.
Each project will receive a production grant of €10,000 and be supported by such industry professionals as GMFF's CEO and artistic director Ziv Naveh, German documentary filmmakers Bettina Blümner and Uli Gauke and Israeli producer Liran Atzmor as mentors.
The resulting collection of films will be premiered as an omnibus film at Israeli and German film festivals in 2017.
"One Two Films is mainly focused on feature films, but this is a project we couldn't say no' to," One Two Films' joint managing director Jamila Wenske noted.
"It's almost scary how highly topical this project has become," One Two Films' Sol Bondy told Screen.
"When we started working on Out Of Place, the debate about how to integrate thousands of refugees into our society still had not become such a public controversy. All of a sudden, people are telling Out Of Place stories everywhere."
"But it's important to mention that we are not only looking for refugee stories," he stressed. "We strongly encourage filmmakers to surprise us with their own interpretation of what being Out Of Place means to them."
"The Gesher Multicultural Film Fund is playing a central and significant role in promoting filmmaking that deals with social and cultural issues," added the Film Fund's CEO, Ziv Naveh.
"As the screen has the power to lead and to serve as a catalyst for social change, GMFF created the Out Of Place framework to put this mission into action."
According to the organisers, applications will be accepted until Jan 31 2016 from candidates with Israeli or European citizenship living in Israel or Germany and must be submitted in pairs by directors, producers, screenwriters, editors, film school graduates or journalists.
One Two Films and GREENproductions previously collaborated on Tom Shoval's debut feature Youth , which premiered at the 2013 Berlinale. The two companies are now partners on his second film Shake Your Cares.