EXCLUSIVE: Dublin-based Roads Entertainment readies Trade and Pat Collins biopic Song Of Granite.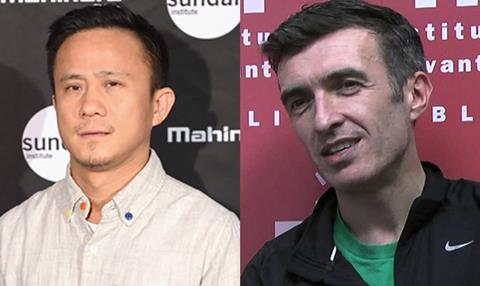 BAFTA-nominated director Hong Khaou (Lilting) is newly attached to direct drama Trade, written by Garage and Adam & Paul screenwriter Mark O'Halloran.
Dublin-based Roads Entertainment (Being AP) is producing Trade, about a young man searching for stability in the wake of his father's death.
Shoot is due to get underway later this year on the project, adapted from O'Halloran's play of the same name. Development was supported by the Irish Film Board (IFB) and Roads' facility Portico Development Fund.
Khaou's 2014 debut Lilting, starring Ben Whishaw, debuted at Sundance and played at a number of international festivals before being released in the UK by Artificial Eye.
O'Halloran, who is also an actor and collaborated with Lenny Abrahamson (Room) on Garage and Adam & Paul, most recently scripted Paddy Breathnach's 2015 drama, Viva.
Song Of Granite
Next up for Roads Entertainment, the company set up by Ryanair heiress Danielle Ryan and run by former IFB executive Alan Maher, is Pat Collins (Silence) drama Song Of Granite, which the company is producing with Collins' Harvest Films and Martin Paul-Hus' Amerique Films.
Due to shoot this spring in Ireland and Montreal as an Irish-Canadian co-production, the film charts the story of Sean-Nos singer Joe Heaney.
Cast and additional production partners are due to be announced soon on the film, which was also developed by IFB and Portico.
IFTA-nominee Collins most recently co-directed documentary 1916: The Irish Rebellion, narrated by Liam Neeson.
The Life And Death Of Sophie Stark
Roads recently optioned Anna North's well-received 2015 novel The Life And Death Of Sophie Stark, the story of a young artist's rise and tragic fall. Lena Dunham and Room screenwriter Emma Donoghue were among the book's champions last year.
The deal was negotiated on behalf of Anna North by Julie Barer and Anna Geller of The Book Group and Alan Maher and Roads development executive Heather Browning.
Also on Roads' development slate is writer-director Ciaran Foy's (Sinister 2) fantasy horror The Shee, which will be produced in partnership with US genre specialists Blumhouse.