The star and director of Gett: The Trial Of Viviane Amsalem has passed away following a prolonged battle with cancer.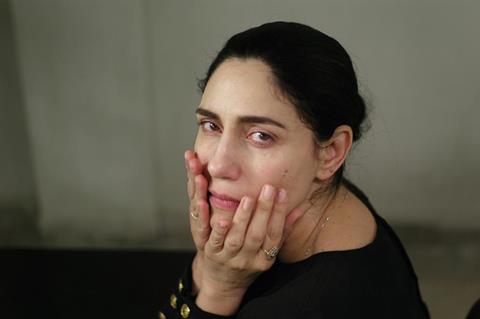 Ronit Elkabetz, Israeli leading actress and director, has passed away at the age of 51, following a prolonged battle with cancer. She is survived by her husband and two three-year-old twins.
The daughter of a hairdresser and a postal employee, Elkabetz didn't study acting, but broke into the profession in 1990 after an earlier career as a model.
In 1997 she moved to Paris to study acting with Ariane Mnouchkine, supporting herself as a waitress before she was invited to the famous Avignon Theatre Festival to do a one woman show on the life Martha Graham.
Her strong, powerful, outspoken personality and remarkable camera presence left an indelible mark from her very early films and TV performances. She threw herself into every part she assumed with a fierce, desperate commitment, that seemed to take possession of her whole being and was often almost frightening to watch.
She first drew international attention with her uncompromisingly passionate and highly sexual performance in Dover Kosashvili's Late Marriage (2001) while her dark role as a devastated former prostitute was the backbone behind Keren Yedaya's Camera d'Or for 2004 drama Or.
She collected unmitigated praise for the luminous, warm character of a single woman she played in Eran Kolirin's hit The Band's Visit (2007) but her most resounding success came with the multi-awarded, largely autobiographical trilogy she wrote and directed with her brother, Shlomi.
The first part, To Take A Wife (2004) was unveiled in Venice's Critics' Week, the second part, Shiva (2008) played in Cannes and the third, Gett (2014), triumphed in the 2014 Directors' Fortnight, again in Cannes.
Involved in social work no less than she was in her artistic career, Elkabetz, achieved star status both in Israel and France, for both her film and stage performances. Her determined and strong-willed personality was widely admired, even if it was sometimes regarded as overpowering.
Described as a "woman teeming with passion and erotica" and as "mysterious and exotic" she was one of those rare artists who was liked, and occasionally disliked, but never ignored.