Sony Pictures Animation on Monday afternoon unveiled a blockbuster film and television slate through 2018 that made no secret of the properties the studio values most highly.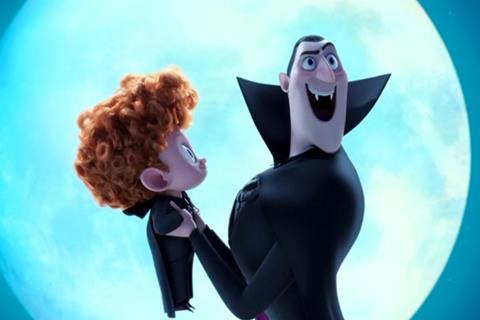 The multi-platform roster includes features of Spider-Man, Emojimovie and new instalments in the Hotel Transylvania and Smurfs franchises, as well as a TV outing for Ghostbusters.
Emojimovie: Express Yourself will open in August 2017 and explores the world of the characters beloved by cell phone users. Anthony Leondis directs from a screenplay he wrote with Eric Siegel. Michelle Raimo Kouyate produces.
Smurfs: The Lost Village is earmarked for April 7, 2017. Kelly Asbury directs from a screenplay by Stacey Harman and Pamela Ribon based on the characters and works of Peyo. Jordan Kerner produces and the voice cast includes Demi Lovato, Jack McBrayer, Joe Manganiello, Danny Pudi, Rainn Wilson and Mandy Patinkin.
Christmas story The Star (working title) is being made in association with The Jim Henson Company and set for December 8, 2017. Timothy Reckart directs from a script by Carlos Kotkin and Simon Moore, and executive producers are DeVon Franklin, Lisa Henson, and Brian Henson.
Hotel Transylvania 3 is scheduled for September 21, 2018, and sees franchise stalwart Genndy Tartakovsky return to directing duties. Michelle Murdocca produces with lead voice star Adam Sandler on board as executive producer. Michael McCullers wrote the screenplay and the cast includes Selena Gomez and Andy Samberg.
As previously announced, The Lego Movie creators Phil Lord and Christopher Miller are working on a Spider-Man animated feature and aim to have it out by December 21, 2018. Lord writes the screenplay and produces with Avi Arad, Amy Pascal and Miller. Bob Persichetti directs.
The animated series include Ghostbusters: Ecto Force set in 2050 and the producers have targeted an early 2018 debut. Ivan Reitman and his production company Ghost Corps take the lead creatively.
Hotel Transylvania: The Television Series is earmarked for 2017 and is being produced in partnership with Corus Entertainment's Nelvana and will air on Disney Channel worldwide.
Cloudy With A Chance Of Meatballs will air on Cartoon Network in the US in 2017 and is being produced in partnership with DHX Media. TELETOON in Canada commissioned the series and Turner channels will broadcast the show across EMEA, APAC and Latin American markets.
The direct-to-video title Surf's Up 2: Wavemania will debut on home entertainment in spring 2017. Henry Yu directs and Michelle Wong produces the WWE Studios and Sony Pictures Home Entertainment partnership featuring WWE Superstars John Cena, The Undertaker, Triple H, Diva Paige and Mr. McMahon.
Senior vice-presidents of development Michael Lachance, Jenny Marchick and Mike Moon are in charge of creatively spearheading the Sony Pictures Animation slate.
Sony Pictures Animation president Kristine Belson said: "We are meaningfully stepping up our level of production, while creating an environment that fosters the best talent. Our goal is to enlarge our presence in the animation landscape with a uniquely diverse slate, and our strategy to get there is to let artists drive the movies creatively."