Executives today announced the 15 finallists in the Micro-Budget Production Program for 2015-2016 representing all regions of the country.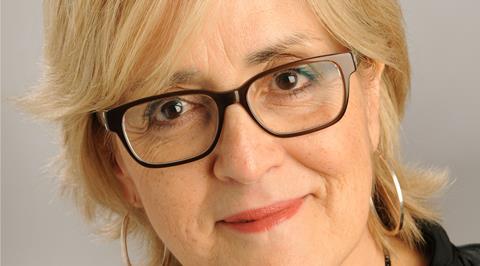 Telefilm Canada brass also said at a press conference at Toronto's TIFF Bell Lightbox that the Talent Fund will subsidise the Program, while Technicolor is offering free digital distribution encoding services to finallists who want it.
This is the third annual round of projects in the Micro-Budget Production Program, which supports emerging filmmakers seeking to produce their first feature-length films.
The scheme places emphasis on the use of digital platforms and developing their potential for distribution and audience engagement. Budgets for these projects must not exceed $250,000.
"In just three years, the Micro-Budget Production Program has already proven it can deliver," said Telefilm Canada executive director Carolle Brabant (pictured). "It's discovered inspiring new talent, several of whom have made it on the festival circuit.
"I'm thinking for example of Christian Sparkes, whose film Cast No Shadow won seven awards including Best Atlantic Film in the Atlantic Film Festival; Julie Lambert, with Un Film De Chasse De Filles, which won three awards at the Quebec City Film Festival; Kyle Thomas, with The Valley Below, which screened at the Toronto International Film Festival and the Vancouver International Film Festival; and Sonia Bonspille Boileau, whose film Le Dep will be featured at the Karlovy Vary International Film Festival.

"I've no doubt this third year's finalists will also amaze us. Thank you to all our partners for their collaboration."
The Talent Fund helps the film industry diversify its funding sources and promote its successes. Under the leadership of an advisory committee of eight business and community leaders, the Fund has raised more than C$15m to date from companies, foundations and individuals.
The money will be invested over a period of seven years. The Fund finances 60% of the Micro-Budget Production Program.
Hartley T Richardson, chair of the Talent Fund advisory committee, said: "I firmly believe that our industry's successes strengthen Canada's image on the international scene, while fostering job creation and contributing to our country's financial success.

"Our efforts are important, because the Talent Fund allows Canadian filmmakers, and especially those of the next generation, to create more Canadian content and captivating stories. The Fund offers all Canadians a terrific opportunity to support and spotlight our homegrown talent."
Jean Ducharme, vice-president of operations at Technicolor Montreal, added: "Technicolor is proud to be associated with Telefilm for its Micro-Budget Production Program. With this partnership, our goal is to support emerging filmmakers by putting our digital distribution expertise at their disposal."
Telefilm's promotional partner on the Program is imagineNATIVE Film + Media Arts Festival.
The 2015-2016 Micro-Budget Production Program Finallists:
New Official-Language Minority Communities component
A
Mitchell Stafiej (director, screenwriter), Daniel Dietzel (producer), Quebec, partner: Mel Hoppenheim School Of Cinema, Concordia University
Memory Is Our Homeland
Jonathan Durand (director, screenwriter, producer), Quebec, partner: Institut national de l'image et du son (INIS)
MIA
Jeremy Guenette (director, screenwriter, producer), Gabriel Lévesque (screenwriter, producer), Manitoba, partner: On Screen Manitoba
Aboriginal component
The Edict
Benjamin Ross Hayden (director, screenwriter, producer), Manitoba, partner: Adam Beach Film Institute
River Of Silence
Michael Auger (director, screenwriter, producer), Danette Chalifoux (screenwriter, producer), partner: Bosa Centre for Film & Animation, Capilano University, British Columbia
Main component
Cardinal
Greyson Moore (director, screenwriter), Aidan Shipley (director), Kristy Neville, Marianna Margaret, Justin Elchakieh (producers), Ontario, partner: Ryerson University
Feuilles Mortes, Thierry Bouffard, Steve Landry, Édouard Tremblay (directors, screenwriters), Jean-François Dugal, Éric Denis, Charles Gaudreau (producers), Quebec partner: Spirafilm
The Hanging Tree
Marshall Axani (director, screenwriter), Diana Donaldson (producer), British Columbia, partner: Bosa Centre for Film & Animation, Capilano University
The Land Of Rock And Gold
Janine Windolph, Daniel Redenbach (directors, screenwriters, producers), Saskatchewan, partner: University Of Regina
Play Your Gender
Stephanie Clattenburg (director, screenwriter), Sahar Yousefi (screenwriter, producer), Nova Scotia, partner: Atlantic Filmmakers Cooperative
The Space Between
Amy Jo Johnson (director, screenwriter), Jessica Adams (producer), Ontario, partner: Canadian Film Centre
The Stand Up Man
Aram Collier (director, screenwriter), Tony Lau (producer), Ontario, partner: York University
The Sun At Midnight
Kirsten Carthew (director, screenwriter), Amos Scott (producer), Northwest Territories, partner: Western Arctic Moving Pictures
The Train Whistle Does Not Blow
Ashley McKenzie (director, screenwriter), Nelson MacDonald (producer), Nova Scotia, partner: National Screen Institute (NSI)
Une Fille Comme Moi
Kristina Wagenbauer (director), Geneviève Simard (screenwriter), Quebec, partner: Institut national de l'image et du son (INIS)