EXCLUSIVE: Principal photography has wrapped on Mary McGuckian's The Price Of Desire, about modernist designer Eileen Gray.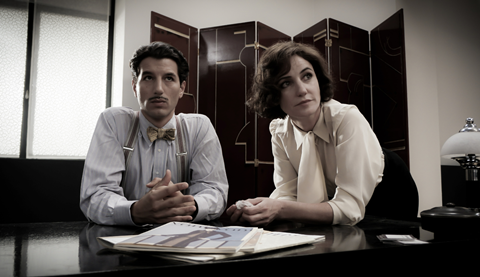 On the final day of the shoot the production staged a reenactment of the February 2009 record-breaking $28m Paris sale at Christie's of Gray's Dragon Chair.
The reenactment will be the opening scene and recreates what remains the highest price paid for an item of 20th century design.
Cheska Vallois of Galerie Vallois, who bid for the anonymous private client who bought the chair, plays herself in the production and famously explained the high price-tag to reporters immediately after the auction by saying "it can only be the price of desire."
The Price Of Desire focuses on how rival modernist Le Corbusier questioned Gray's reputation as one of the most powerful influences on modern architecture and design.
Orla Brady plays the lead role of Gray opposite Vincent Perez as Le Corbusier. Alanis Morissette and Francesco Scianna play Gray's lovers, the feted French singer Marisa Damia and architecture critic Jean Badovici.
McGuckian is currently in post-production at Windmill Lane Pictures in Dublin.
The Price Of Desire is a European co-production between EG Film Productions Limited of Ireland and Saga Film in Belgium, in association with Fabrica de Cine and Katie Heidy's US based Liberty Liquid Films and Rush River Entertainment.
The film also has the support of The Irish Film Board, Bord Scannan na HEireann, the Irish S481 incentive programme, BNP Paribas Fortis Film Fund with the support of the Media Production Guarantee Fund and Audiovisual Aval S.G.R.
EG Film Productions Limited is involved in two associated projects, a revisionary documentary by Marco Orsini in association with Mojo Entertainment and a limited edition print publication of Julian Lennon's work by Stoney Road Press.