Dir. Rachel Tunnard. UK. 2016. 96 mins.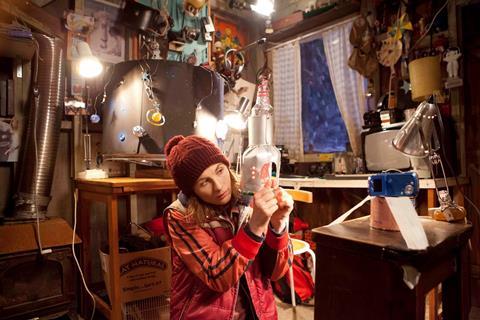 The debut feature from editor and BAFTA-nominated short filmmaker Rachel Tunnard combines a playful, homespun aesthetic with an admirably light touch around some fairly weighty themes. It shares something of Me, Earl And The Dying Girl's formula of self-awareness, bittersweet humour and death, and there are even echoes in the endearingly crude home movies made by the central characters. But while that was an unmistakably slick, American package, Adult Life Skills is more prickly and angular, with an offbeat eccentricity that shows its British roots. It's the Submarine of bereavement comedies.
The performances are disarming and the emotional candour around the subject of bereavement is refreshing
The picture features dual demographics which are consistently under-represented in cinema – firstly, it's a predominantly female-driven story and secondly, it has a robustly Northern English flavour to its humour – and its appeal will be greatest in the Venn diagram segment where the two intersect. It should connect with audiences, both festival and domestic theatrical, which have been starved of representations of people like themselves in cinema. Commercial prospects for this amiable but low-key picture will be dependent on positive word of mouth.
Anna (Jodie Whittaker) is at an impasse. Since the death of her beloved twin brother Billy (Edward Hogg) she has been unable to move on with her life. She lives in her mother's shed, surrounded by Billy's life in neatly labelled boxes. She dresses like someone who fell into the discount bin at the local Oxfam shop. She is incapable of organising basic things like laundry – which results in a minor kitchen disaster when she tries to microwave her wet bra dry before work. She dedicates long hours to making home movies featuring her thumbs, adorned with biro faces, discussing thorny issues such as the exact nature of Yogi Bear's nihilism (moral or existential?).
Having previously shown her concern by nagging her daughter to strim her excess armpit hair and get a haircut that doesn't call her gender into question, Anna's mother (Lorraine Ashbourne) snaps and issues an ultimatum shortly before her daughter's thirtieth birthday. Anna needs to find a flat and move out from the shed. The obvious crush harboured by the socially inept estate agent, Brendan (Brett Goldstein), provides the film with some of its most effective comic moments.
The arrival of two new characters is the catalyst which drives Anna towards some kind of peace with her bereavement. Her well-meaning but mouthy school friend Fiona (Rachael Deering) arrives home following an extended trip to Southeast Asia. And a troubled eight-year-old boy called Clint (Ozzy Myers) latches onto her, recognising a kinship and a shared sense of loss – his mother is gravely ill and he too has retreated into a world of fantasy and invention.
The technical package is impressive – Beck Rainford's production design is a window into Anna's cluttered, embattled psyche; Bet Rourich's cinematography brings a glum beauty to the Yorkshire backdrop. The film's weakest point is the overuse of twangy acoustic noodling on the soundtrack, which feels like a quirky indie trope too far. Still, the performances are disarming and the emotional candour around the subject of bereavement is refreshing. Plus Whittaker, who also starred in Tunnard's short film Emotional Fusebox, is first-rate throughout.
Production company: Pico Pictures
International sales: Independent; mail@independentfilmcompany.com
Producers: Michael Berliner
Screenplay: Rachel Tunnard
Cinematography: Bet Rourich
Editor: Rachel Tunnard
Production design: Beck Rainford
Main cast: Jodie Whittaker, Edward Hogg, Alice Lowe, Brett Goldstein, Rachael Deering, Lorraine Ashbourne, Eileen Davies