A portrait of an artist in Montevideo, directed by Federico Veiroj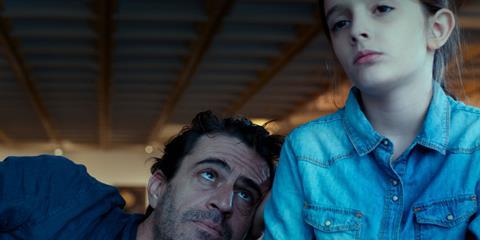 Dir. Federico Veiroj. Uruguay/Mexico/Spain. 2018. 75 mins.
It wouldn't be entirely fair to say that Uruguayan comedy-drama Belmonte is a matter of style over substance. Style it certainly has, as well as spirit – an eccentric, unpredictable spirit that confirms writer-director Federico Veiroj as a promisingly non-conformist talent. What his fourth feature somehow lacks is a sense of direction: with its fragmented glimpses of the life of a middle-aged male artist, it's never quite apparent where the film is heading, or what it has on its mind.
Scenes in which the painter rather joylessly clicks, or doesn't, with his eager female admirers come across as sexual comedy of a rather antiquated macho stripe
Visually and musically, though, Belmonte is fairly beguiling, as gently oblique head-scratchers can be - which should enhance its festival presence, although it's unlikely to find the same success in the wider world as Veiroj's highly successful 2010 portrait of an eccentric cinephile, A Useful Life.
Belmonte is a portrait of a male bohemian anti-hero, of a slightly old-fashioned stripe. The lead is debut actor Gonzalo Delgado – a painter in real life, as well as production designer on Uruguayan films including Whisky and Veiroj's Acne and The Apostate. He plays Javier Belmonte, a moderately successful painter in his 40s, specialising in large, muscular, slightly Schnabel-esque canvases, for the most part expressionistically depicting male nudes.
Belmonte is recently divorced from his printer wife Jeannette (Jeannette Sauktesliskis), who's about to have a baby with her new partner, and is trying to balance out his professional life, his ample time mooching around Montevideo and its photogenic shoreline, and looking after his whip-smart 10 year-old daughter Celeste (an absolutely winning performance by newcomer Olivia Molinaro Eijo). He is also, despite his taciturn propensity to slouch around with a sullen scowl, unfailingly attractive to women, whether it's the much younger pianist (Giselle Motta) he meets at a concert, or the glamorous wealthy patron (Cecilia Jeske) who spontaneously disrobes for him, without getting a very enthusiastic response.
The narrative, such as it is, hangs on two prospective events: the birth of Jeannette's new child, and a major show of Belmonte's work at Montevideo's National Museum. But generally, the film comprises a series of fragmentary moments from the lives of Belmonte and those around him, notably his elderly parents (María Noel Gutiérrez, the stately Tomås Wahmann), who run a fur business – prompting a delightfully oddball sequence as Belmonte, his head emerging through a wall of mink and fox, talks to his brother in a storage freezer. There are also a couple of cheerfully incongruous moments of surrealism – one of Belmonte's paintings appears to scream at him, and a man mysteriously appears grimacing up a tree.
We also get a number of musical interludes by the sea, including a witty folk number by Leo Masliah and a French ballad by Diane Denoir. A sub-plot about Belmonte's mistrust of a young acquaintance of his father's never quite gels, and the scenes in which the painter rather joylessly clicks, or doesn't, with his eager female admirers comes across as sexual comedy of a rather antiquated macho stripe.
While it feels as if the film could easily have started and ended at any point whatever, Belmonte's loose, sketchy quality is not without appeal, the film's obliqueness somewhat recalling the off-beat mode of Hal Hartley or the ensemble films of Argentina's Matias Piñeiro.
What the film absolutely has going for it, however, is a heightened sense of colour, with DoPs Analía Polio and Arauco Hernández Holz laying on non-naturalistic glows and washes of deep red and green that heighten the overall painterly register, somewhat in the manner of camera maestro Vittorio Storaro's flamboyant chromatic experiments. The canvases seen throughout are by Gonzalo Delgado himself, and the film benefits from the naturalness of his body language whether carving out lines on canvas, or hauling his canvases round town. He's also tersely watchable as an actor, even if he doesn't quite convince us that Belmonte is as charming as the film wants us to believe.
Production companies: Cinekdoque, Nadador Cine, Corazón Films, Ferdydurke Films
International sales: Meikincine Entertainment, info@meikincine.com
Producers: Federico Veiroj, Juan José López, Pedro Barcia, Sandro Halphen, Eckerhard von Damm, Fernando Franco
Screenplay: Federico Veiroj
Cinematography: Analía Polio, Arauco Hernández Holz
Editors: Manuel Rilla, Fernando Franco
Production design: Nicole Davrieux, Alejandro Castiglioni
Main cast: Gonzalo Delgado, Olivia Molinaro Eijo, Tomás Wahrmann, Jeannette Sauktesliskis , María Noel Gutiérrez