Dir: Mustafa Kara. Turkey, Hungary, 2015. 139 min.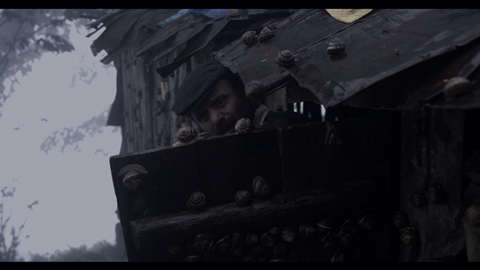 Whether taken as an anthropological portrait of a dirt-poor family desperately trying to make a living in the mountains of Northern Turkey, or as a metaphor for stubborn dreamers who never give up hope of finding a shortcut from one side of the tracks to the other, Mustafa Kara's second feature film fully deserves the Best Director award he collected recently in Tokyo.
Nature and people seem intrinsically united in Kara's perception of their existence
Slow, some might argue overlong, contemplative but gorgeously shot, with a pretty amazing performance by Haydar Sisman as the man who believes there must be a pot of gold with his name waiting for him somewhere, this is strictly an arthouse item but a choice one that should find plenty of suitable niches for exhibition. Sisman received the Best Actor award in the international competition at the recent Antalya Film Festival, while his co-star Nuray Yesilaraz, who gives a sterling performance as his suffering wife, took Best Actress in the national awards section along with a raft of other prizes for the film.
Socially speaking, there is nothing much lower than the condition of Mehmet (Sisman, bearing an uncanny resemblance to Italian actor Omero Antonutti). He lives in a decrepit mountain hovel, away from everyone and everything, with his ancient mother, his harassed, exhausted and despairing wife, and his two boys, one of them handicapped. While they do raise animals at home, this hardly provides enough sustenance. Had he been sensible, he would have gone for a job in the nearby mine as his family urges, and brought home wages, but Mehmet is convinced, and he is probably quite right, that this will never pull himself and his brood out of their abject misery.
Instead of listening to his wife and selling their prize bull to pay back some of his countless debts, he keeps prospecting the craggy mountains all around him searching for veins of valuable metals that might justify opening a mine there. He did it once, years ago, and made some money out of it, and thinks there is no reason why it shouldn't happen to him again.
The script picks him up as the winter season is approaching, scratching energetically with his pick and hammer at the hard rock walls of a narrow cave which, he thinks, might bring him luck. It doesn't, but that still won't send him home to his family. He goes on chasing his rainbows, higher and higher up in the mountains, scraping his way, to no avail, on the slopes of abrupt, bare, fiery peaks, wrapped in mist and covered with snow, coming up empty handed but refusing to accept his defeat. That is, until he hears of the bullfights taking place in the nearby city and the big prizes distributed to the winners and instantly, he switches from one fata morgana to another, training his bull for the competition with the same obsessive perseverance he displayed looking for precious ores.
The spectacular landscape of the same mountains which provided an earlier Turkish film, Ozcan Alper's Autumn, with a splendid setting of majestic might, are no longer a background but an active factor in the plot. They are as breathtaking and mysterious as they were in Alper's film, but here, there is nothing pleasantly green or benign about them. They are hard, naked, unhospitable, just like the kind of life they inflict on Mehmet and his family. Nature and people seem intrinsically united in Kara's perception of their existence.
Assisted by two gifted cinematographers, Cevahir Sahin and Kursat Uresin, Kara's attentive eye captures every single mood of the land and of the seasons, white wintery compositions transiting into a lovely spring. One shot of Mehmet and his bull in the forest, with the sun rising (or maybe setting) in the upper left corner of the frame,deserves to hang in any self-respecting museum. Another memorable moment comes up in a conversation between Mehmet and Hanife when they break down and try to listen to each other for a change, both of them in tears.
The pace is slow, even very slow, no doubt to fully convey the weight on Mehmet's shoulders, and there are quite a few repetitions that may irk more impatient viewers. But on second thoughts, they'll have to agree it all makes sense. As for the dilemma of choosing between the bird in the hand and the bird in the bush, don't expect a ready answer here. The film doesn't deny the option that he might keep them both, but only inveterate optimists will believe that.
Production company: Kara Film
Producer: Nermin Aytekin
Contact: Kara Film, m.karafilm@gmail.com
Screenplay: Mustafa Kara, Bilal Sert
Cinematography: Cevahin Sahin, Kursat Uresin
Editing: Umut Sakallioglu, Ali Aga, Mustafa Kara
Production design: Olgun Kara
Music: Eleonore Fourniau
Cast: Haydar Sisman, Hanife Kara, Ibrahim Kuvvet, Temel Kara, Muzaffer Sen, Hasan Fehmi Hizal, Ahmet Turan, Tuncer Salman, Nuray Yesilaraz