Clint Eastwood saddles up one more time for this nostalgic tale of an ageing cowboy on a road trip to Mexico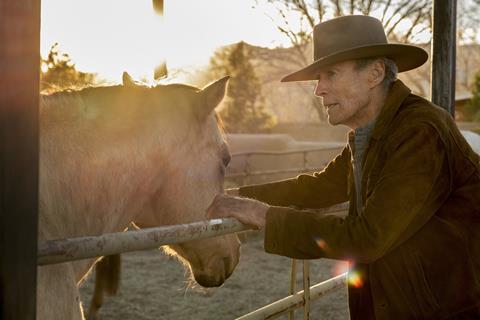 Dir: Clint Eastwood. US. 2021. 104 mins.
The type of character Clint Eastwood plays in Cry Macho will be familiar to his fans: a rugged cowboy who goes it alone and lives by his own code. Based on N. Richard Nash's 1975 novel, the veteran star's 39th feature as a director works to his strengths both in front of and behind the camera, although this comfy, melancholy drama lacks the spark of his best pictures. Still, this tale of an ageing American horseman who travels down to Mexico to retrieve his boss' teenage son may provoke a warm, nostalgic response from audiences who want to see the Hollywood icon's effortless charisma and trademark squint one more time.
The main draw is the opportunity to savour a living legend
Cry Macho opens in the US in theatres and on HBO Max this Friday, September 17. (A UK release is planned for November.) Eastwood last appeared in 2018's The Mule, and the sight of him in a cowboy hat in this pseudo-Western should trigger fond memories for those who have grown up on his films. Now 91, Eastwood will play to his base, but it's a modest picture nonethelss.
Set in the late 1970s and early '80s, the film stars Eastwood as Mike, a cantankerous former rodeo star who broke his back and now makes his living working on a ranch for the no-nonsense Howard (Dwight Yoakam). But after firing Mike, Howard comes back into his life, asking for a favour: would he be willing to drive to Mexico to escort his estranged son Rafo (Eduardo Minett) back to Texas? Reluctantly, Mike agrees, but after tracking down the teenager, he discovers that the boy's mother, Leta (Fernanda Urrejola), doesn't want to let him go, ordering her goons to chase after them.
Eastwood has frequently portrayed lone wolves out of step with the world, often saddled with tragedy. So it's no surprise that he takes to Mike easily, capably portraying a man who lost his wife and child in a car crash and has kept to himself ever since. Likewise, Cry Macho's predictable narrative arc — Mike and Rafo don't get along initially, but eventually they'll bond — is meant to be part of the charm. From the film's first moments, the audience can guess exactly how the story will pan out, and the pleasure is watching Eastwood gracefully negotiate every well-worn twist and turn.
But although the actor's crackling deadpan and wiry frame are instantly recognisable, and enjoyably so, the character isn't sharply drawn and Mike's relationship with Rafo is never particularly lively. Rafo has reason to resent his father — whom he hasn't seen in years — but Minett fails to establish much of a rapport with Eastwood, even though the characters are supposed to develop a kinship because they're both outcasts. Rafo becomes a surrogate son of sorts to Mike — however, Eastwood only occasionally brings sufficient pathos to their budding friendship.
That said, Cry Macho has an endearingly odd sense of humour thanks to the third character on this journey back to the States: Rafo's pet rooster Macho. Working with cinematographer Ben Davis, Eastwood gives the New Mexico locales a wide-open beauty, but the austerity of the settings are often slyly undercut by the presence of this quizzical bird, which squawks and struts around. Eastwood's stoicism counterbalanced by Macho's jerky motions can be awfully amusing — not to mention they bring energy to the somewhat somnolent pacing.
Throughout the film, other characters mock Mike for how old he is, and Eastwood (who turned 90 during production) unquestionably seems to have slowed a bit with age. That's more of a problem when the script requires Mike to punch the bad guys or contribute to action scenes, but once Mike enters into a tentative romance with Marta (Natalia Traven), a cantina owner they meet along the way, Eastwood's weathered machismo is sweetly appealing. Indeed, Cry Macho features his most touching love story since The Bridges Of Madison County.
But whether it's the cardboard antagonists or the pedestrian contours of the road-movie plot, Cry Macho doesn't offer much that is new. Of course, the film isn't actually trying to sell us originality — rather, the main draw is the opportunity to savour a living legend. There's a poignancy that sweeps through the film — both because Mike knows his best days are behind him and because Eastwood's frailty is visible — and it's hard not to be moved by that realisation. But the film's emotional impact is ultimately more about our history with Eastwood than it is about what transpires on screen.
Production companies: Malpaso, Albert S. Ruddy Productions
Worldwide distribution: Warner Bros.
Producers: Albert S. Ruddy, Tim Moore, Jessica Meier, Clint Eastwood
Screenplay: Nick Schenk and N. Richard Nash, based on the novel by N. Richard Nash
Production design: Ron Reiss
Editing: Joel Cox, David Cox
Cinematography: Ben Davis
Music: Mark Mancina
Main cast: Clint Eastwood, Eduardo Minett, Natalia Traven, Dwight Yoakam