Tony Gatlif's latest is a female road movie set between Greece and Turkey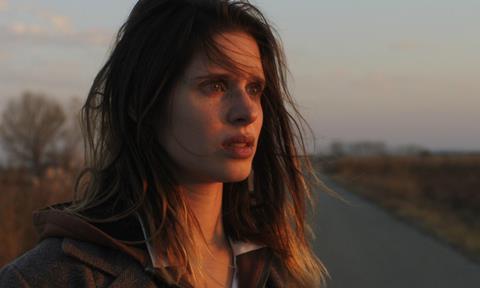 Dir. Tony Gatlif. France/Greece/Turkey. 2017. 97 mins
French director Tony Gatlif is something of a specialist in odysseys - notably in his epic 1993 docu-musical Latcho Drom, about the historic journeyings of Gypsy peoples across India, Europe and North Africa. His new Greek voyage is on a somewhat smaller scale, a female road movie set between Greece and Turkey, that looks at current cultural, social and economic issues that afflict that part of Europe today, but that also celebrates the traditional Greek song form rebetiko.
As ever, Gatlif can't be faulted on energy
Djam represents a formidable showcase for up-and-comer Daphné Patakia in the title role. Her, and the film's, indefatigable exuberance won't be for everyone, and the film isn't one of the very finest from Gatlif, known for his celebration of Gypsy cultures; but it's rarely a dull ride.
The film, which kicks off on the isle of Lesbos, begins with a long take in which young Greek woman Djam (Patakia) exuberantly sings a rebetiko number - as is her wont throughout - with her arm-flailing and rolling on the ground signalling both her wild-child indomitability and her aversion to wearing knickers.
She then meets up with her Uncle Kakourgos (Simon Abkarian); her stepfather, in fact, who sends her on a mission to go to Turkey to buy a connecting rod for his currently out-of-commission boat, and to retrieve some family memorabilia on the way back. Please behave, Kakourgos adds - but a cut to an Istanbul club shows the irrepressible Djam throwing caution to the wind in an ebullient belly dance routine.
Djam befriends Avril (Maryne Cayon), a young French woman who's stranded without money, having come to Turkey to work as a volunteer with refugees. The two hit the road with assorted comic and traumatic ups and downs - the connecting rod gets lost and found more than once on route - and various encounters reveal familiar contemporary realities, such as a beach strewn with the abandoned boats of refugees. Then it's time to head back home, where the bailiffs are moving in on Kakourgos, but, even in the toughest times, Djam is ready with a song.
This peripatetic lark is, as so often in Gatlif's work, narratively all over the place, the film seeming to invent itself as the road winds. Djam's appeal very largely depends on whether we fall for or are driven up the wall by Pataki's relentlessly look-at-me performance.
Resembling a wilder-eyed twin to France's Marine Vacth, Pataki is certainly a natural, exuding a highly sexual and anarchic mischief and expressiveness, especially in her whole-hearted singing and dancing, but she's not immune to a strain of goofiness that makes you wonder how you'd might say 'manic pixie' in Greek.
A slight box-ticking approach to key contemporary issues blunts the film's edge but, as ever, Gatlif can't be faulted on energy, and world music lovers will relish the fairly diverse examples of a specific music genre.
Production companies: Princes Production, Pyramide Productions, Blonde, Güverte Films, Auvergne-Rhône Alpes Cinéma, Princes Films
Sales agent: Les Films du Losange b.vincent@filmsdulosange.fr
Producer: Delphine Mantoulet
Screenplay: Tony Gatlif
Cinematography: Patrick Ghiringhelli
Editor: Monique Dartonne
Main cast: Daphné Patakia, Simon Abkarian, Maryne Cayon, Kimon Kouris