Dir: Andrew Stanton US. 2016. 97mins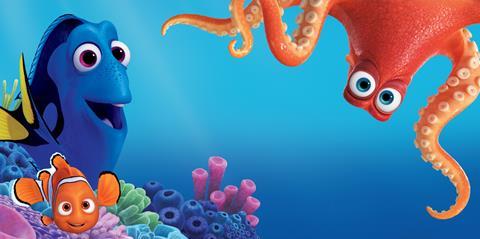 Getting back in the water 13 years after Finding Nemo, Finding Dory is a supremely delightful sequel. Although never challenging the original's high standing within the Pixar pantheon, this follow-up showcases everything the venerated animation company does so well, providing plentiful laughs, ace action sequences and a deep emotional wellspring. But most triumphant is the return of Dory director and cowriter Andrew Stanton to the Pixar fold. After his foray into live-action with 2012's ungainly John Carter, he has happily regained the clever flourishes and sweet soulfulness that powered his Finding Nemo and Wall-E.
Stanton continues to understand and explore these films' central premise, which is how families can break apart but also come back together
Opening across much of the globe by June 17, this Disney release will hope to match the grosses earned by Finding Nemo, whose $896 million is behind only Toy Story 3 on the list of Pixar's all-time moneymakers worldwide. Whereas Albert Brooks was Nemo's main attraction, Ellen DeGeneres is Dory's principal voice actor, and her profile has only risen since the 2003 film thanks to her very popular daytime talk show and her stints hosting the Oscars. Dory's first major competition may come from another Disney movie, The BFG, which hits theatres at the start of July, but solid reviews and audiences' love of the original film should result in substantial business.
Set one year after Finding Nemo, Dory finds the adorably daffy blue tang Dory (voiced by DeGeneres), who suffers from severe memory loss, suddenly remembering that she was separated from her parents (voiced by Eugene Levy and Diane Keaton) when she was just a little girl. Recruiting her clownfish friend Marlin (voiced by Albert Brooks) and his son Nemo (voiced by Hayden Rolence), Dory travels to the California coastline to track them down — a search that leads to the Marine Life Institute, where she believes they have been waiting for her.
Finding Nemo created a powerfully immersive underwater world, which served as a marvellous backdrop for Marlin's anguished journey to locate his son. Dory is just as spectacular visually, but where the first film was about an overprotective widowed father learning that he can't safeguard his offspring from all of life's terrors, this sequel is about a goofy, goodhearted blue tang regaining something that she didn't even know she'd lost.
Dory isn't as emotionally nuanced as the original film, but while the robustly entertaining sequel doesn't have the same thematic richness, it's still potently poignant and willing to deal with loss in aggressively sombre tones. DeGeneres does a terrific job finding the silliness and pain in an absentminded character whom the filmmakers never let just be a one-joke creation. In Nemo, Dory mostly served as the comic relief, offering the uptight Marlin a more carefree outlook. But Stanton, cowriter Victoria Strouse and co-director Angus MacLane have fleshed out the blue tang sufficiently for this follow-up film, making the stakes palpable for this possible reunion with her parents.
Shelving most of Nemo's supporting characters, Dory introduces several new ones, and it's a testament to the film's creative team that one hardly misses the old crew. Among the additions, best are Ed O'Neill as a cranky octopus who reluctantly befriends Dory, Kaitlin Olson as a comically near-sighted shark and Ty Burrell playing an unconfident beluga whale who, in one of Dory's best running gags, rediscovers his echolocation abilities, leading to a series of funny sonar jokes.
Stanton's previous Pixar films flaunted a knack for inventive action set pieces, and Dory is a model of economical storytelling as Dory, Marlin and Nemo work their way around the California aquarium — often split up — in the hopes of finding Dory's mom and dad. Considering these characters can't simply walk from location to location, which are usually separated by dry land, Dory's headlong rush is even more impressive. And if Dory lacks the amount of gorgeous underwater settings that highlighted Nemo, then the compensation is a tour of this aquarium's different rooms and facilities, with Stanton paying careful attention to how humans seem like strange, dangerous monsters from the other perspective.
Still, what's key to Dory's success is that Stanton continues to understand and explore these films' central premise, which is how families can break apart but also come back together. And although Brooks is more in the background for Dory, his Marlin remains a crucial character, trying to be less controlling of his son and also understanding that he now needs to help Dory reunite her family in the same way that she helped him previously.
It's a pity that Marlin doesn't have as much of an arc as he did in the 2003 original, but that's because it's Dory's turn this time. And DeGeneres is up to the task, making her blue tang's inability to remember a rather deft metaphor for learning to appreciate the things and individuals that are truly unforgettable.
Co-director: Angus MacLane.
Production company: Pixar Animation Studios
Worldwide distribution: Disney, http://movies.disney.com/all-movies
Producer: Lindsey Collins
Executive producer: John Lasseter
Screenplay: Andrew Stanton and Victoria Strouse, original story by Andrew Stanton
Cinematography: Jeremy Lasky (director of photography-camera) and Ian Megibben (director of photography-lighting)
Production design: Steve Pilcher
Editor: Alex Geddes
Music: Thomas Newman
Website: http://movies.disney.com/finding-dory
Main Voice Cast: Ellen DeGeneres, Albert Brooks, Ed O'Neill, Kaitlin Olson, Hayden Rolence, Ty Burrell, Diane Keaton, Eugene Levy