Thandiwe Newton is superb in this adaptation of James Lee Burke short story Winter Light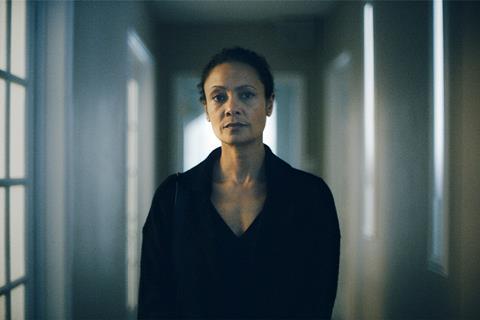 Dir. Julian Higgins. US. 2022. 102 mins.
God's Country is derived from a short story by James Lee Burke called 'Winter Light' about an ageing professor in Montana who is raging against the dying of it. There's something about the stone-cold audacity of Julian Higgins and co-writer Shaye Ogbonna who, for their feature debut, take Burke's modern-day contemplation of frontier masculinity and re-cast it with a female, Black, lead: God's Country is overloaded, but what a challenge they set for themselves with Thandiwe Newton in the driving seat.
Newton is sure to draw universal acclaim for her powerhouse portrayal
Newton is sure to draw universal acclaim for her powerhouse portrayal of a former New Orleans cop who finds herself at odds and isolated in her rural retreat. Higgins, who knows this terrain well, having also made a short based on this same story, will be admired for his daring, while Andrew Wheeler's work as DoP in this wintry terrain and Deandre James Allen-Toole's empathetic score marks them out as talents to watch. God's Country is a film from new voices, bristling with ambition. Of course they hang far too much on the slender shoulders of Burke's short story – Burke himself being a notoriously difficult writer to adapt for the screen – but there's an excitement in watching them try. In fact, God's Country mostly comes across like a Taylor Sheridan thriller; quite an achievement when you consider there's absolutely no mystery to the plot.
You can either view the decision to switch the protagonist's gender, race and age, and all the issues this might entail in rural Montana, as over-achieving or you can simply sit back and enjoy what the team, and Newton in particular, does with it. It certainly loads the film with extra layers of meaning. When a hunter snarls at her, "I've heard about you,", is it because she's a woman living alone in the canyon? Black? From the college? Higgins and co-writer Ogbonna make the decision to severely ration any information about Sandra (Newton) over the seven days in which the action transpires (each accompanied by a title card). The director and DoP dial up the atmospherics, with the score weaving in suspense, and Newton takes it away.
The interesting thing is you could still substitute a male actor in the finished product – there's been absolutely no attempt made to sexualise Sandra. Her vulnerability is visual and in the viewer's perception, not hers. Newton is fascinating in the role. As with all of Burke's works, primordial urges are at play. His characters contemplate both their own and heaven's nature in the face of mankind's pettiness and violence. God's Country chronicles a tit-for-tat escalation which takes place after two redneck hunters arrive in her isolated canyon shortly after the death of her mother. She, alone amongst the majesty, doesn't want them there and displays an aggressive stubbornness in making her case, even when the local acting sheriff and her neighbouring faculty head urge her to observe local customs. Tensions ratchet up out of all control as Sandra pursues her course to the bitter end. You could start taking bets about the longevity of her dog.
It's no longer a tussle of wills and masculinity between the old academic and the blue-collar intruders, but something far more conceptually interesting. Sandra has an obstinacy and a solitary nature that women aren't always awarded in films. She's also a Black woman, grieving her mother, which lends discussions at the unversity about hiring policies an added sting, and a former New Orleans Police Department officer who has been damaged beyond repair by the events of Hurricane Katrina (a recurring theme in Burke's work).
Too often, though, God's Country slides off into tangents and distractions. The tweedy head of faculty Arthur (Kai Lennox), for example, might easily have been replaced by a shot of a page of script, for all the three-dimensionality he has – he's simply there while the film roams around trying to find an antagonist, something about which it can never quite make up its mind. An issue of consent with his female Native American assistant throws the film into another direction entirely, and then just as quickly walks away. The acting sheriff is a far more interesting character, thanks to an impressive performance by Jeremy Bobb, but his presence fades away, and the sibling hunters Nathan and Samuel Cody, played with surprising nuance by Joris Jarsky and Jefferson White, aren't always enough to counteract the force of character that is Sandra.
During this beautifully-shot film, Sandra and Arthur find themselves together in a church, and an impromptu, almost existential conversation transpires in the hushed back rows. "Are you just what happened to you?" asks Sandra, not of Arthur in particular, but of us all. A signal is made that this 'cycle of grief' will only be ended by a sacrifice which, essentially, sees God's Country lay its narrative marker in a Western which has, from its very opening shots, linked itself to the tough history of the frontier. That this comes from a woman, and in particular a performer of the power of Newton, makes God's Country a marker in itself.
Production companies: Cold Iron Pictures
International sales: ICM, Jessica Lacy, jessica.lacy@icmpartners.com
Producers: Julian Higgins, Miranda Bailey, Halee Bernard, Amanda Marshall
Screenplay: Julian Higgins, Shaye Ogbonna, from the short story Winter Light by James Lee Burke
Cinematography: Andrew Wheeler
Production design: Flora Ortega
Editing: Justin LaForge
Music: DeAndre James Allen-Toole
Main cast: Thandiwe Newton, Jeremy Bobb, Joris Jarsky, Jefferson White, Kai Lennox, Tanaya Beatty