Dir. Ingrid Veninger. Chile-Canada. 2015. 80mins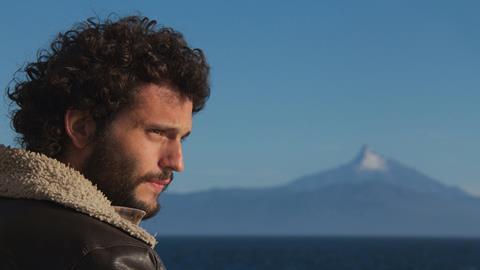 This wistful road trip through the grieving process of a recently bereaved young man comes with a caveat from the filmmaker. Canadian writer/director/producer/actress Ingrid Veninger has stipulated that each screening of the film should have a live musical accompaniment, allowing local musicians the freedom to improvise and interpret the work differently each time.
It's a suggestion that will be a selling point to festival audiences intrigued by the idea of a one-off bespoke experience which blends cinema and performance. Equally, this could prove to be an impediment to the film's wider journey, although with this in mind, Veninger has created a version of the film with music included in the mix (recorded live by Justin Small and Ohad Benchetrit, it is heavy on reverb and plaintive guitar). Handsome but a little earnest, this is a film which is arguably best suited to the festival environment, where audiences can take in the complete experience with its live component.
Pedro Fontaine makes his screen-acting debut as Elias, a young Chilean man who is blindsided by the sudden death of his free-spirited Canadian boyfriend Sebastian (Cristobal Tapia Montt). We meet him a month after the event. Elias has driven out to the Atacama desert – the place where Sebastian died – at night, and there, in the grey pre-dawn pall, he howls his anguish and builds a small shrine to his lost love.
Interestingly, for a project which puts such emphasis on the musical component, this is very visual storytelling. Cinematographer Dylan Macleod makes use of the striking backdrop, the wide open skies and the ever-changing desert light. And while the symbolism might be a little too on-the-nose – Elias starts off in the dark, and ends his journey in the light; Elias is alone, even when he is surrounded by families on a beach – this is a handsome piece of filmmaking.
Elias feels compelled to embark upon the road trip that he had hoped to take with Sebastian. Starting out at Copiapo, in the north of Chile, he drives down to the south. It is largely a solitary journey, punctuated with flashbacks to the time he spent with Sebastian. These little glimpses are crucial for our understanding of the nature of Elias's grief, and the film would have benefitted from a few more of them. They give us breathing space. Otherwise, there are an awful lot of scenes involving a gorgeous man looking photogenically sad in front of various stunning vistas.
Along the way, Elias meets fellow travellers who help guide him towards the spiritual peace he craves. Some of the encounters are fleeting – a brief conversation with an English backpacker, a surprise meeting with an old friend. Others are more substantial. Elias forms a bond with a stray dog and, for a few hours at least, considers taking it with him. And a Canadian backpacker (played by Veninger herself) complements him on his positive energy.
Veninger resists the temptation to over explain the tragedy although she plants the seeds of suspicion that Sebastian's death might have been suicide. There is also a hint that Elias's new start might involve the same route, although more optimistic audience members will prefer to read the film's open ending as the beginning of the next leg of a journey, rather than the final curtain.
Production company: pUNK Films
Contact: infopunkfilms@gmail.com
Producer: Ingrid Veninger
Screenplay: Ingrid Veninger
Cinematography: Dylan Macleod
Editor: Maureen Grant
Main cast: Pedro Fontaine, Cristobal Tapia Montt, Vanessa Ramos, Ingrid Veninger, Leonardo Fini, Mota Motude, Art Pia