Dir: David O. Russell. US. 2015. 123mins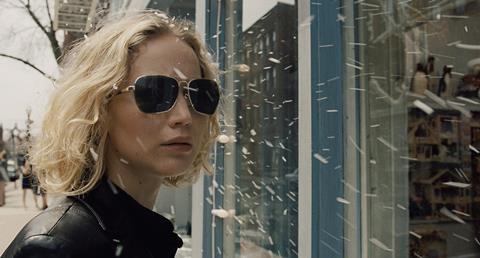 Turning the real-life story of an entrepreneurial single mother into a plucky, hyper-vivid Cinderella fable, Joy recycles the traits that have distinguished filmmaker David O. Russell's spate of recent movies: a celebration of the messiness of everyday life; the affectionate acknowledgment of the difficulties of family; and a cockeyed fascination with characters chasing their version of the American Dream. But the improvisational flair, unpredictable tonal shifts and overt emotional lurches that highlighted American Hustle and Silver Linings Playbook are here less consistently inspired and affecting, resulting in a heartfelt fairy tale that only soars in spurts.
Jennifer Lawrence's utter commitment to her character's mission helps sell why a potentially bizarre dream meant so much to this woman.
Jennifer Lawrence brings her titular character's bruised determination to life, which is critical in a self-indulgent film that can't resist the sweeping gesture or grand thematic flourish.
Set to be released in the States on December 25, this Fox offering has its sights set on awards season, hoping that Russell's recent Oscar streak continues. (His last three films, which also included The Fighter, have netted 25 Academy Award nominations, including three straight Best Picture nods.) Lawrence, who won Best Actress for Silver Linings Playbook, heads an ensemble that also includes Robert De Niro and Bradley Cooper, guaranteeing significant commercial viability. And with its crowd-pleasing tone and lack of emotional restraint, Joy could benefit from strong word-of-mouth from holiday audiences.
Based on the life of Joy Mangano, a New York divorcée who in the early 1990s developed a new kind of mop that made her a mogul, Joy tells the story of how its luckless protagonist (Lawrence) finally lived up to her childhood potential after getting side-tracked by an unhappy marriage to Tony (Edgar Ramirez), an aspiring singer, and motherhood.
A high school valedictorian who always enjoyed coming up with new inventions, Joy has an idea for a self-wringing mop that's more absorbent and easier to clean than anything on the market. But to bring her design to fruition, she'll need to overcome her disapproving father (De Niro) and the head of a new home shopping network (Cooper) who is not sure if her product will catch on with consumers.
Narrated by Joy's grandmother (Diane Ladd), Joy sprinkles on the magic fairy dust early and often, crafting an environment in which our heroine's crazed, hyperbolic family life is counterbalanced by a prevailing notion that she's meant for more than this dreary domesticity. Much as he did in The Fighter and Silver Linings Playbook, Russell (who also wrote the screenplay) makes Joy's family members, with their oversized personalities, a major background noise that's meant to be both comedic and exhausting. (Tony still lives in her basement even though they've broken up. Her dad has had several wives. Her mother, played by Virginia Madsen without much effort to enliven a one-note character, spends her days consumed with soap operas. And they're all under her roof.)
In Russell's best recent movies, the spontaneous combustion between lively temperaments — not to mention between actors who have been given the freedom to deliver big performances — can be liberating and infectious. But in Joy, the technique starts to feel like a gimmick, Russell unable to conjure up comparable improvisational pleasures. Too much of the film's early stretches, though amusing and often likeable, seem like throat-clearing before we get to Joy's most engaging element, which is the heroine's quest to get her mop to potential buyers.
Lawrence has played larger-than-life characters in Silver Linings Playbook and American Hustle, but in Joy she's dialled down appreciably, playing a woman who once considered herself special but has been systematically beaten down by adulthood enough to believe that her creative spark has died. Though Russell lingers on Joy's overly quirky family initially, the repetitiveness is important later so that we can understand why she so badly wants to break free of them through her unconventional product.
Joy notes in its opening stretches that Joy as a girl didn't want a man to whisk her away as if she were a damsel in distress, and although Russell belabours the point — as he does with several of his movie's themes — that sets in motion a template by which the film is almost an ironic fairy tale, Joy serving as a Cinderella or Sleeping Beauty who rescues herself.
Interestingly, Lawrence doesn't play Joy that differently than she does her Katniss Everdeen character from The Hunger Games: both women come to understand that they have to stand up for themselves and defy others' low expectations. In her brief career, Lawrence has learned how to wring deep empathy from this kind of character arc, and even when Joy tries too hard to make Joy's story rousing and triumphant, the actress ensures that her character is appealing in a modest, underdog way.
At the same time, Russell seems tickled by the oddness of Joy's financial windfall, making slight fun of the era's rise of shopping networks such as QVC and their often artificial attempts to sell products to people watching at home. (In Joy, we watch the beginnings of QVC with its impossibly bubbly hosts, low-budget production design and forced enthusiasm.)
Incorporating a score that occasionally emphasises Joy's surreal journey to becoming a domestic guru, Russell finds humour in the fact that Joy launched an empire based around a mop, but the teasing seems more bemused and playful than it is snide, and Lawrence's utter commitment to her character's mission helps sell why a potentially bizarre dream meant so much to this woman.
Russell regular Cooper is quite entertaining as the head of QVC programming, giving his slightly ridiculous character a realistic centre. He knows that selling clothes and household items on TV may not be high art, but he can do it better (and with more passion) than anyone else.
Another frequent Russell player, De Niro, doesn't do as well, being forced to portray Joy's clueless and somewhat callous father without much interest in what made him so unhappy and withdrawn. Simply put, he's a caricature, which is also true of Isabella Rossellini, who plays his rich girlfriend with a haughty air that's neither particularly funny nor enjoyably bitchy. Much better is Ramirez as Joy's ex, who winds up being one of her closest advisors. Despite portraying a dashed-off character, the actor suggests years of regret and tenderness. In Tony's eyes, we see the amazing woman Joy will become - who, frankly, was always there.
Production companies: Fox 2000 Pictures, Annapurna Pictures, Davis Entertainment Company, 10 By 10 Entertainment
Worldwide distribution: Twentieth Century Fox, www.foxmovies.com
Producers: John Davis, Ken Mok, Megan Ellison, Jonathan Gordon, David O. Russell
Executive producers: Matthew Budman, John Fox, Mary McLaglen, Joy Mangano, George Parra, Annie Mumolo, Ethan Smith
Screenplay: David O. Russell, story by Annie Mumolo and David O. Russell
Cinematography: Linus Sandgren
Production design: Judy Becker
Editors: Jay Cassidy, Alan Baumgarten, Christopher Tellefsen, Tom Cross
Music: West Dylan Thordson and David Campbell
Website: www.JoyMovie.com
Main Cast: Jennifer Lawrence, Robert De Niro, Edgar Ramirez, Diane Ladd, Virginia Madsen, Isabella Rossellini, Bradley Cooper