Dir: William Oldroyd. 2016, UK, 88 mins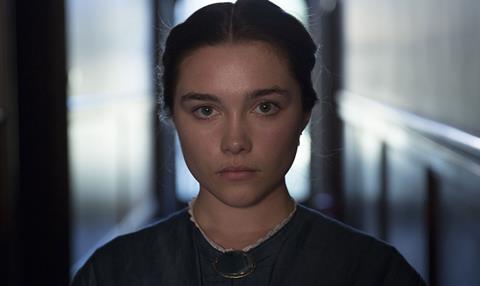 Not an adaptation of the Bard, but in other ways as Shakespearean as it gets, Lady Macbeth is a powerfully austere nineteenth-century drama, and an uncompromising attempt to make that rare thing, a genuine British art film. Superbly acted and executed, this spare piece of storytelling marks an assertive feature debut for theatre and opera director William Oldroyd, following prize-winning Sundance-screened short Best.
Florence Pugh is altogether a revelation
It also marks a terrific showcase for Florence Pugh, mightily consolidating on her debut in Carol Morley's The Falling. Using its low budget to inventively economical effect, the austerity of this iFeatures project makes it a more challenging theatrical proposition than more mainstream British heritage dramas, but Lady Macbeth's emotional and narrative intensity, not to say its potent erotic charge (there's as much Lady Chatterley as Lady M. here) will make for moderate upmarket exportability and strong festival presence.
Written by playwright Alice Birch, the film is based on Lady Macbeth of the Mtensk District, the 1865 novel by Nikolai Leskov which inspired Shostakovich's opera of the same name (it was also filmed by Andrzej Wajda in 1962's Siberian Lady Macbeth, and inspired Valery Todorovsky's 1994 Katia Ismailova). Birch's adaptation sets the action in rural Northern England in the 1860s, where young Katherine (Pugh) is first seen marrying an older man, Alexander (Paul Hilton), in an alliance that is strictly a business matter; it becomes clear that she is very considered an article of property, both by her husband and by his authoritarian father Boris (an imposingly scary Christopher Fairbank).
Tight compositions and formal symmetries in Ari Wegner's photography emphasise that Katherine is a prisoner in this male household, where her only companion and possible ally is her maid Anna (impressive first-timer Naomie Ackie). Hand-held camera when Katherine, against orders, takes her first liberating walk on the moors helps establish her wilder side.
That part of her nature emerges when she intervenes to save Anna from abuse by a group of her husband's workers, headed by groom Sebastian (Cosmo Jarvis). Her defiance towards Sebastian's macho taunting develops into flirtation and, with her husband away, Katherine takes Sebastian as her lover, the couple enjoying intensely depicted interludes with increasing recklessness. As the affair progresses, and Katherine takes drastic measures to protect her new freedom, she comes to live up to the film's title. It's a sign of Lady Macbeth's dramatic restraint that the final and most shocking of its acts of violence is shown pretty much in absolute silence, in one of the long, poised takes that are a distinguishing feature of the film.
Lady Macbeth is one of several recent attempts to free British costume drama from the prettifying conventions that so often stifle it – its austerity echoes Terence Davies, while its evocation of the earthiness often suppressed in modern treatments of the Romantic era has much in common with Andrea Arnold's 2011 Wuthering Heights. But this is also a powerfully political film. It not only shows how, in its brutal treatment of a woman like Katherine, patriarchy creates its own nightmare nemesis, but also muses disturbingly on questions of race in British history, with no punches pulled in the depiction of the abuse of the black maid Anna; other black and mixed-race characters play pivotal roles in the final act.
The restrained staging means that the tenor of the drama becomes not melodramatic but operatic – even though Dan Jones's ominous music is used very sparingly, to maximum effect. As Sebastian, singer-songwriter Jarvis transcends the Heathcliffian brooding-hunk aspect of the role to create a man as much victim as lover, and he and Pugh generate very troubling sparks. Pugh is altogether a revelation, her Katherine starting out as coy Victorian bride, her rebellion gradually making her more ambivalent, before she emerges as an altogether terrifying anti-heroine of Greek tragedy dimensions.
Production company: Sixty Six Pictures, iFeatures
International sales: Protagonist Pictures, info@protagonistpictures.com
Producer: Fodhla Cronin O'Reilly
Screenplay: Alice Birch
Cinematography: Ari Wegner
Production designer: Jacqueline Abrahams
Editor: Nick Emerson
Music: Dan Jones
Main cast: Florence Pugh, Cosmo Jarvis, Naomi Ackie, Paul Hilton, Christopher Fairbank