Dir/scr: Xavier Giannoli. France-Belgium-Czech Republic. 2015. 127mins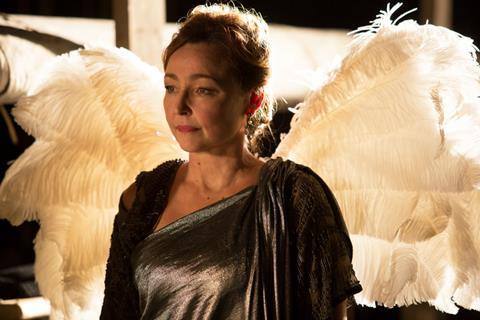 The bittersweet fact that money can buy many things but love and talent aren't among them is explored with often-thrilling artistry in Marguerite. This beautifully appointed and perfectly cast period piece set in Paris and environs in 1920 and '21 observes the delusional efforts of Baroness Marguerite Dumont to sing opera although she is absolutely incapable of singing on key — or even in the general vicinity of how the notes were written. Because of her wealth and pleasant disposition, nobody in attendance at her private recitals for worthy causes has ever told her the truth. Which isn't really a problem until she becomes intent on finally giving a high profile public performance.
Art house distributors would be crazy not to give this original, funny and touching confection a look.
Catherine Frot is, ahem, pitch-perfect as the industriously tone-deaf Baroness who practices for five hours a day and owns nearly 1,500 original music scores and countless stage costumes from the operatic repertoire. The fictional Marguerite was inspired by American socialite Florence Foster Jenkins who in the teens through the mid-1940s sang opera, blissfully unaware of her utter lack of talent. Meryl Streep has undertaken the title role for Stephen Frears.
Writer-director Xavier Giannoli has done well to set his tale just after the First World War, the better to make use of then new-fangled gizmos and to incorporate a wonderfully anarchic Dada-inflected evening. The script even calls for a bearded lady (Sophia Leboutte), whose hairy chin is no impediment to social acceptance. The film is divided into five chapters, each announced with a title card in the manner of the silent cinema. (Charlie Chaplin's name is evoked more than once, even by the well-to-do.)
Marguerite is madly in love with her aloof and philandering husband Georges (André Marcon) who has no money of his own and hates himself for not being able to tell his wife she's an excruciatingly poor vocalist. The earplug-sporting staff of 20 or so servants in their overstuffed manse definitely knows their mistress never met a note she couldn't mangle. But nobody has breathed a word. Certainly not her devoted head butler Mandelbos (Denis Mpunga), and not the hypocritical members of her social class.
Proletarian music critic Lucien Beaumont (Sylvain Dieuaide) and his émigré artist friend Kyril (Aubert Fenoy) crash a benefit for war orphans at Marguerite's mansion. The chamber orchestra and singers — including dirt-poor recent conservatory graduate Hazel (Christa Théret) — are quite good. Then Marguerite appears, a freshly plucked feather from a resident peacock atop her head. It is instantly obvious to the interlopers that Marguerite's "singing" is painfully, wretchedly, overwhelmingly awful. But, to their astonishment, nobody is letting on.
Charismatic Mpunga plays the role that Erich von Stroheim played to Gloria Swanson's oblivious former star in Sunset Boulevard. Imposing and unflappable, Mandelbos takes all of Madame's promotional photographs and develops them himself; sees that endless flower bouquets arrive from alleged admirers and carefully removes mocking articles should they appear in the French press. More than anything else, his devotion permits Marguerite to continue living in her bubble of sweet obliviousness.
When Marguerite announces her intention to give a genuine public recital for which months of preparation are required, the stakes are high and her entourage isn't sure how to prevent a debacle.
Frot could not be better. Mpunga is a revelation. Dieuaide's Lucien is troubled and insecure and it pains us that he can't summon the courage to court the truly gifted young Hazel. And Michel Fau is a foppish delight as the flamboyant singer who goes from the lead in Pagliacci to the beyond-challenging task of coaching Marguerite because he needs the money.
The retro surroundings are wonderful but the human behaviour is anything but old-fashioned. The discomfort inherent in telling somebody something unpleasant face-to-face may seem downright exotic to a generation in thrall to social media, especially text messaging and the practice of "ghosting".
Despite its running time, the film's suspense lasts until the final frames. The musical score — both on-and-off key — is splendid.
Production companies: Fidélité
Coproduction companies: Gabriel Inc., France 3 Cinéma, Sirena Films, Scope Pictures, Jouror Cinéma, CN5 Productions
International sales: Memento Films International tanja@memento-films.com
Producers: Olivier Delbosc, Marc Missonier
Cinematography: Glynn Speeckaert
Editor: Cyril Nakache
Production design: Martin Kurel
Music: Ronan Maillard
Costumes: Pierre-Jean Larroque
Main cast: Catherine Frot, André Marcon, Michel Fau, Christa Théret, Denis Mpunga, Sylvain Dieuaide, Aubert Fenoy, Sophia Leboutte, Théo Cholbi