Alex Garland's outrageous rural horror is a disorientating and roundly unpredictable piece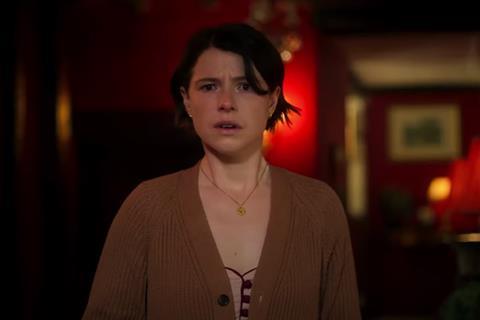 Dir/scr. Alex Garland. UK. 2022. 100 mins
Men, Alex Garland's third film as writer/director after Ex-Machina and Annihilation (as a novelist he wrote The Beach, as a screenwriter, 28 Days Later), starts out in seemingly familiar territory. Alone, and listening to Leslie Duncan's 'Love Song' on the car radio, Harper (Jessie Buckley) drives into the heart of rural England, steals an apple from a tree, bites into it hungrily, and meets her bucktoothed tweedy landlord played by Rory Kinnear. She is taking a break in his ancestral bucolic home after a traumatic event in London. The 'rural horror' signs are flashing from the get-go, suspiciously so for such a restlessly inventive writer as Garland. No complacency allowed here, though, as his deranged trippiness tips the audience into an unexpectedly pointed and messily poignant genre romp.
Men is sure to draw some criticism: anything this outrageous inevitably will.
Playing in Quinzaine at Cannes, Men — which should easily draw mature audiences on its imminent release, particularly those attracted to Ari Aster, or early Robert Eggers – is both an intimate horror and big-screen proposition despite almost being a two-hander, if not quite a two-facer. As a modern-day Alec Guinness, aided by CGI, Kinnear plays every man that Harper encounters during her stay in this insidious, isolated village, from a stalkingly primordial forest man to a small schoolboy. Gifted with sensational performances from Buckley, Kinnear and Paapa Essiedu, who makes a blistering impression in his few scenes, Men is a disorientating circular ride around Garland's personal theme park – a place that is invigorating to observe, and, often, recognise.
The score by Geoff Barrow and Ben Salisbury underlines every move in this 360-degree piece, starting out when Harper whistles down a disused railway tunnel in the forest and coming back at her in relentless waves. This is a An American Werewolf In London village, and Kinnear's characters are similarly jokey to start - the bumbling landlord Geoffrey (Kinnear), for example – but become increasingly more threatening to Harper, who is herself haunted by trauma after the death of her husband James (Essiedu) in London.
James is a persistent force in Harper's life. Scenes which relate his death — in particular the final breakdown of their marriage – resonate powerfully through Garland's piece thanks to the fierce and terrifying dynamic between Essiedu and Buckley. Like the whistle, they bounce through Kinnear's characters and into reverberating pain for Harper and James. What do all these men so relentlessly want from her? An ancient carving in the local church of an exposed vulva gives a hint of what's to come, but only in retrospect, as Men's gristly climax is quite unpredictable in its boldness, as is the pathos of her tormentors being weakened by the very force of their unstoppable pathological need.
Men is sure to draw some criticism: anything this outrageous inevitably will. The film is rooted in the sickening idea of blackmail and revenge by suicide, which will make it uncomfortable viewing for some. And although Garland perhaps thinks he wants his film to look at relationships, it is appropriately called Men — and some men won't like it for what it has to say about them. For its originality, precision, and performances, though, it is a sound and roundly feminist piece. 2022 is turning out to be the year of genre fare, as yet-to-be-released films from Sundance in particular demonstrate. Those, such as Nanny or Master, view modern societal ills through a genre lens. Men goes back much further, to the base of our being: Harper eats the apple, but punishment awaits for all.
Production company: A24 Films, DNA Films
International sales: A24, info@a24films.com
Producers: Andrew MacDonald, Allon Reich
Cinematography: Rob Hardy
Production design: Mark Digby
Editing: Jake Roberts
Music: Geoff Barrow, Ben Salisbury
Main cast: Jessie Buckley, Rory Kinnear, Paapa Essiedu, Gayle Rankin