Dir. Ezra Edelman. US, 2016. 476 mins.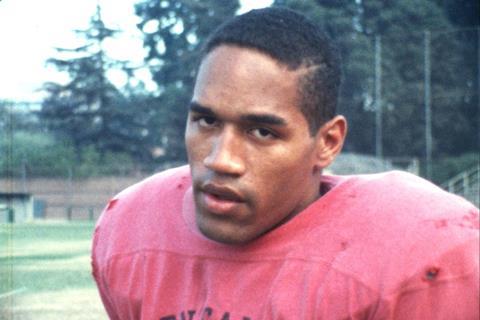 Clocking in at just shy of eight hours, OJ: Made in America made a theatrical awards-qualifying run the US before a broadcast premiere on June 11, following well-received bows at Sundance and Hot Docs. This is an understandable move on the part of ESPN Films. Although Ezra Edelman's documentary is set out clearly in five episodes of roughly 95 minutes duration, his work is cumulatively bigger than the small screen. This almost biblical story of a man who is both the hero and villain of his own life, of sport and race and class and celebrity and money and the media and the justice system in America, "is bigger than all of us" says his former prosecutor Marcia Clark, and it speaks to us all.
This is compelling. Eight hours doesn't feel like enough
Edelman tracks Orenthal James Simpson from childhood to his current state of incarceration in Nevada, through sporting fame, marriage and murder, trial and, eventually, punishment. He has masterfully edited a staggering weight of footage – this was a life led in the spotlight long before and after the cameras entered Judge Ito's court in Downtown Los Angeles in July 1994 – and dug deep into the racial issues which have tormented America and in particular Los Angeles in the run-up to the murders of Nicole Simpson and Ron Goldman.
OJ: MIA is, put simply, compelling. Eight hours doesn't feel like enough, and, following on from cable crime hits such as Making A Murderer, The Jinx and the podcast Serial, it crowns the long-form documentary as the true witness of the media age. Is it a film? Even at 476 minutes, OJ: Mia falls 100-odd minutes short of Shoah, and although it is by no means a work of art in that manner, it is artfully assembled. Further festival runs must be hoped for; small-scale niche binge-theatrical is possible, but this will mostly be consumed on home screens. Awards are inevitable.
The recent, floridly entertaining TV drama The People Vs. OJ Simpson has revived interest in the 'trial of the century' and that can only benefit Edelman's documentary, which is of clear interest to international audiences who struggled to grasp the complexities of who or what was on trial back then.
With an increasingly present and lyrical score from Gary Lionelli, Edelman sets about the story of Orenthal James Simpson with patience and probity, teasing the viewer with current-day footage from the Nevada prison in which the still-handsome OJ, now aged 68, is confined. Video footage shows him being asked by a panel to confirm his arrest at the age of 46. We know this was on charges for the murders of his estranged wife Nicole Brown Simpson and the waiter Ron Goldman. Instead, though, Edelman shifts slowly back to 'the Juice' in his sporting prime, the running back who used his amazing speed and legendary charm to vault himself out of the San Francisco Portrero projects into USC and the sporting record books.
Interesting facts begin to emerge about a man who seemed to transcend race: that OJ's father was gay, that OJ "stole" the girlfriend of his lifelong best friend AC Cowlings – that's Al Cowlings of the Bronco Freeway chase - and later married her. That one of his children drowned as a toddler. That he was serially unfaithful. That by the time he married for a second time, to Nicole Brown, a nightclub waitress he met when she was 18, his tastes were far more suited to the ritzy, rich white enclave of Brentwood, Los Angeles, and that, in fact, he didn't particularly view himself as being black – in his eyes, he was simply OJ. That carefully managed crossover appeal translated into money: for years, he was the face of Hertz.
With the idea that "there's no more powerful narrative in American society than that of race", Edelman deftly contrasts OJ's rise against the appalling story of racial discrimination in Los Angeles and the chequered history of the LAPD. Time is at the documentarian's disposal here, and he examines the Watts riots, the death of Eula Love and Latasha Harlins, as well as the shocking Rodney King footage.
Meanwhile, in Brentwood, OJ's relationship with Nicole was toxic. Police paid more than 12 visits to the Rockingham mansion on callouts for domestic violence, and OJ pleaded no contest to spousal abuse after a fight in 1989.
The scene being set, Erdman doesn't actually arrive at June, 1994 until over three hours in. OJ's arrest and attempted flight are nail-biting, with helicopter pilot Zoey Tur taking the viewer through the chase. For the trial itself, Erdman has lined up all the principals, still with axes to grind - from prosecutors Marcia Clark and Gil Carcetti to Barry Scheck, F. Lee Bailey, Carl E. Douglas, and, representing the families of the victims, Fred Goldman and Theresa Brown. Disgraced LAPD detective Mark Fuhrman appears. "For you it's a documentary, for me it's the end of my life," says the officer who was compared to Hitler. Two jury members talk about their 11-month sequestration.
To the sounds of Dvorak's New World Symphony, OJ emerges into an America cheering his acquittal but it is a strange 'new world' to which he returns. Inevitably, there's a sense of anti-climax to Edelman's documentary, but the story has many more twisted roads to follow. A civil case, a vengeful father's pursuit - rap stars, prostitutes, drugs, Miami, Nevada and, eventually, retribution.
OJ: Mia is a supremely accomplished work of documentary film-making, as large and ambitious as the events it follows. Despite its length, every minute feels like it matters and leads the viewer to a greater understanding. This is an epic story, of OJ Simpson, yes, but also of America. Did he do it? In a curious way, the burning question of 1994 and 1995 fades in comparison with the bigger issues examined here. But Edelman leaves the viewer in little doubt.
Production companies: Laylo Films, ESPN Films
Producers: Ezra Caroline Waterlow
Executive producers: Connor Schell, Libby Geist
Producers: Tamara Rosenberg, Nina Krstic
Editors: Bret Granato, Maya Mumma, Ben Sozanski
Music: Gary Lionelli
Cinematography: Nick Higgins