Mike Leigh goes home to recount an infamous massacre which took place in Manchester in 1816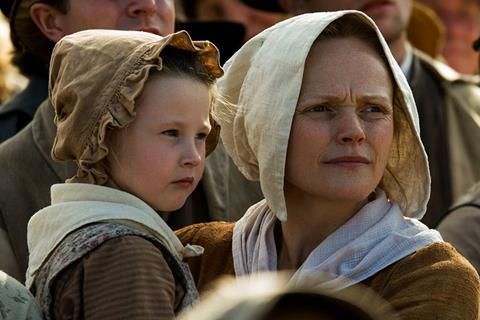 Dir. Mike Leigh. UK. 2018. 154 mins
Always demanding, often didactic, yet cumulatively rousing, Mike Leigh's typically rigorous Peterloo richly rewards audiences who give it their full attention. Detailing the events leading up to and including the day of the Peterloo Massacre - August 6, 1819 - when armed forces charged into a crowd of 60,000 demonstrators peacefully agitating for electoral reform in Manchester, this magnificently-realised film moves from feeling like a long, dry history lesson to becoming an angrily-direct and emotional tribute to the reformers of the past.
Peterloo is Salford-born Mike Leigh's most expensive film, at a modest $17.8m, and the money is well-spent
Backed by Amazon, Leigh's weighty story of overwhelming social injustice in Industrial Revolution Britain is clearly, with a run-time of 154 minutes, not for the popcorn crowd. The wordiness of the film's first part, in particular, is a strain. But UK audiences who turned out in their droves for 2014's 150-minute Mr Turner (which took over $9m there) should come back to learn more about this stain on their country's past, often omitted from the history books. Peterloo can easily be viewed through the prism of Brexit as an echoing condemnation of England's ruling elites, who have casually dismissed their own populace over the ages. As such, it will chime painfully in a country which is increasingly at odds with its political leadership; international appeal, meanwhile, will rest on Leigh's well-established credentials.
Leigh is determined to show Britain, in particular, the lessons of its own past at home in those 'dark Satanic mills' and, in doing so, note how little has changed for the working class. That may mean lengthy speeches by a confusing carousel of agitators, but it also involves absorbingly detailed recreations of events, characters and settings. Framing all this is the story of a simple working class family in Manchester's linen mills whose shell-shocked son Joseph (David Moorst) – a holy fool perhaps – opens the film at the Battle of Waterloo and wraps it at another violent confrontation four years later.
There's no real star of Peterloo, set in the aftermath of Napoleon's defeat during the repressive Corn Laws and rotten Regency. UK stage veteran Rory Kinnear, playing anti-poverty and pro-democracy radical reformer Henry Hunt, and Maxine Peake as Nellie, the matriarch of Joseph's impoverished family, take two of the larger parts. A wide cast portrays real-life social activists (their words condensed and edited by Leigh) and the 19th century gargoyled, broken-veined, braying political and legal elites. Outside the period trappings, the story of social injustice is sharp and painful; the massacre itself all the more violent and horrifying for the time the audience has spent witnessing precisely how it transpired.
This was a time when only two per cent of the UK population could vote, while the entire country suffered the cost of the Duke of Wellington's adventure in France. When the troops came back – those he called "scum of the earth" – it was to unemployment, rumbling social unrest, wage cuts, and the news that the Duke had been awarded £750,000 by the grateful Prime Minister, Lord Liverpool (Robert Wilfort). One of his commanders, General Byng (Alastair Mackenzie), is shown being rewarded with the role of Commander of the Northern District, an area which had no representation in Parliament and a cruel, intolerant judiciary.
Peterloo is Mike Leigh's most expensive film, at a modest $17.8m, and the money has been well-spent. Of note are the opening and closing sequences – Waterloo, with young bugler Joseph standing lost on the battlefield – and Peterloo, so-called because it took place in St Peter's Field in Manchester, close to where the director grew up in Salford. The staging of the latter, in particular, is incredibly complex, given the number of factions, protestors, police and yeomanry involved, yet it is both precise and well-paced. Although it is never less than clear where Leigh is leading the viewer, with a simple family and the sneering aristocracy, the final hour of his film draws gasps of shock and sadness. The tone may never waver, but the truth is, reliably, always present, and the film is all the more painful for it.
Production company: Thin Man Films
International sales: Cornerstone Films
Producer: Georgina Lowe
Screenplay: Mike Leigh
Editor: John Gregory
Production designer: Suzy Davies
Cinematography: Dick Pope
Music: Gary Yershon
Main cast: Rory Kinnear, Maxine Peake, Neil Bell, Philip Jackson, Vincent Franklin, Karl Johnson, Tim McInnerny