Eric Khoo's mouthwatering drama premieres in Berlinale's culinary section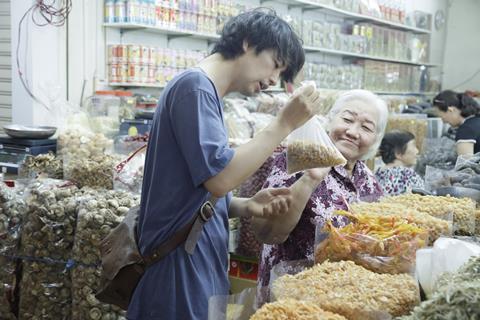 Dir: Eric Khoo. Singapore, Japan, France, 2018, 89 mins
The way to the heart is always through the stomach in Ramen Teh, a tear-stained tale of broken families and healing recipes. Erik Khoo's gentle drama may be too slight and sentimental for some tastes but it is handled with a sincerity that could commend it to incurable romantics and insatiable foodies alike. It's selection for Berlin's Culinary Cinema strand seems entirely appropriate.
The many dishes presented for our delectation could also qualify as a notable supporting act
Food and family has proved a classic combination from Tampopo to Eat Drink Man Woman and Sweet Bean. Ramen Teh feels very much in that tradition with constant scenes of food being lovingly prepared as ingredients are chopped, seasoned, simmered, reduced and transformed into mouth-watering dishes. It is very much a film that should not be approached on an empty stomach.
Food is a way of life for Masato (Takumi Saitoh), a ramen chef in the Japanese city of Takasaki. His working life unfolds to a soundtrack of the contented slurping of noodles and broth. When his dour, distant father dies, Masato discovers a suitcase filled with family photos, souvenirs and notebooks left by his Singaporean mother who died when he was just ten. Masato decides to visit Singapore, exploring the food culture with blogger Miki (Seiko Matsuda), revisiting the places that meant so much to his parents and tracking down surviving members of his mother's family.
When Masato learns more of his parents' past, the film slides into glowing flashbacks of their tender romance and veers perilously close to Nicholas Sparks territory. The screenplay by Fong Cheng Tan and Kim Ho Wong is rarely surprising and the dialogue is often too on the nose for comfort. "Did his heart become as hard as stone because of mother?" wonders Masato as he reflects on his unfeeling father. The discovery of his mother's diary prompts the remark: "The diary is a quilt of memories that she had stitched together."
What saves the film from outright soap opera is the delicate restraint and careful observation of Eric Khoo's direction. He allows the story air to breathe, savours the sights of Singapore and also teases out the way in which this family saga of fracture and reconciliation finds a resonance in the past history between Japan and Singapore. The point is underlined by having Masato visit an exhibition on the Japanese atrocities during World War Two.
Takumi Saitoh cuts a rather diffident figure as the dreamy, gangly Masato but that serves to bring out the quality of the supporting cast with Mark Lee making an impression as Uncle Wee, a culinary enthusiast who comes alive when he teaches his nephew to make the family's famed pork rib soup recipe.
Seiko Matsuda lends sweet support as Miki whilst Beatrice Chien makes the most of her limited screen time as Masato's formidable grandmother Madam Lee. The many dishes presented for our delectation could also qualify as a notable supporting act.
Production company: Zhao Wei Films
International sales: MK2 Films sales@mk2.com
Producers: Fong Cheng Tang, Junxiang Huang, Yutaka Tachibana
Executive producers: Bert Tan, Yutaka Tachibana, TeckLimLand
Screenplay: Fong Cheng Tan, Kim Ho Wong
Cinematography: Brian Gothong Tan
Editor: Natalie Soh
Prod design: Aloysius Norman Benjamin, Kikuo Ohta
Music: Kevin Mathews, Christine Sham
Main cast: Takumi Saitoh, Seiko Matsuda, Mark Lee, Jeanette Aw