Screen rounds up the critically-acclaimed documentaries from this year's festival.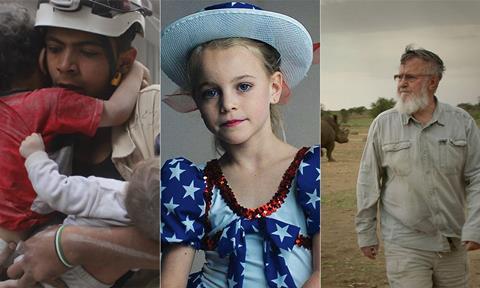 Read more:
Sundance 2017: The stand-out feature films
Cries from Syria
Three heartbreaking films from the tragedy that is Syria premiered at Sundance, including this, the Raqqa-set City of Ghosts and White Helmets-doc Last Men In Aleppo (which won the top prize in the World Documentary section). All are shocking and vital. If it's to be hoped that viewers watch one, it's probably this HBO-bought doc, which sets the scene from the initial Arab Spring protests through to the present date. With scenes of death and destruction from the outset which include chemical weapon poisoning and Russian bombardment, this is sharp, linear, and easy to understand. It going to break viewers' hearts in pieces and break those pieces again, but Cries From Syria is an important education.
Step
It's hard to imagine a better cinematic workout than the 83-minute Step. Even the press audience laughed, cried and cheered this Stick Figure Productions film, which follows three students, their mothers and educators at the Baltimore Leadership School for Young Women as they strive to enter college and win an inter-school step dance contest. Like the Lethal Ladies team, Amanda Lipitz's doc will not be denied. This is a true crowd-pleaser, and Fox Searchlight thought so too, picking up all rights for a reported $4m. Read our review HERE.
78/52
A dissection of Alfred Hitchcock's Psycho shower scene should be a real winner and is – like Hitchcock/Truffaut - undoubtedly coming to an arthouse, cable channel and festival near you. Read our review HERE.
Strong Island
Director Yance Ford relentlessly reconstructs the killing of a young black man – her brother — by a white teenager in the New York suburbs in 1992; that nobody has been made accountable for his death is a wound that will never heal. Read our review HERE.
Trophy
Is big game hunting an excuse to kill, a murderous sport for rich people, or the key to saving endangered species? Shaul Schwarz's doc is sprawling, complex, and beautifully shot and was an early pick-up by The Orchard. Read our review HERE.
Casting JonBenet
Not your usual Netflix doc, this is a probing, Kate Plays Christine-style examination of human instincts. Director Kitty Green stages a casting call for a feature about the murder of JonBenet Ramsey; would-be actors talk about how they perceive their parts; the result is something unexpected and revealing. Read our review HERE.
The Force
"Gripping, inspiring — and, ultimately, dispiriting," documentary by Peter Nicks in which the troubled Oakland police force tries to redeem itself, only to learn how nearly impossible the task may be. Read our review HERE.
Whose Streets?
Intense doc by Sabaah Folayan which charts the aftermath of the 2014 police shooting of an unarmed black man in Ferguson, a suburb of St Louis, and the riots which ensued. "A you-are-there documentary which bears witness with deep sorrow and resilience." Read our review HERE.
Oklahoma City
Barak Goodman's doc revisits the 1995 bombing of a US government building iin Oklahoma City by the deranged right-wing nationalist Timothy McVeigh which cost 168 people their lives. Set to air on PBS in the US, this could also find a home in international markets where Trump's nationalism is fuelling fear. Read our review HERE.
Icarus
Director Bryan Fogel starts Icarus by doping himself as an experiment to look at the role of performance enhancing drugs in athletics, and ends by making explosive revelations about the Russian doping scandal. Netflix took worldwide rights. Read our review HERE.
Chasing Coral
The follow up to Chasing Ice, Jeff Orlowski's latest doc uses impressive new photographic technology to reveal the disappearance of coral reefs across the globe and is an unexpectedly moving, almost tearful, film. Netflix hopped on board for worldwide rights.