Dir. Terence Davies, UK/Luxemburg, 2015, 135 minutes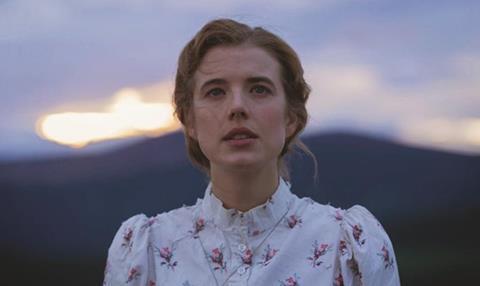 In Sunset Song, Terence Davies takes on the adaptation of one of the great works of Scottish literature – well-known to Scots, but not so celebrated outside that country. As expected, he's made it a tour de force of drama, composition and colour.
There is a near-infinite spectrum of hues in dusky interiors and in the surrounding hills
Davies's latest, following on from the Second World War drama Deep Blue Sea in 2011, will appeal to his admirers and to anyone who is drawn to cinema on the big screen – in this case, the broad canvas of a corner of the North East of Scotland before World War I. The recent rise and electoral success of Scots nationalist sentiment won't hurt Sunset Song, either in Scotland or the Scots diaspora, but this epic based on the 1932 novel by Lewis Grassic Gibbon (1901-35) seems destined for the festival circuit, art houses and museums. We can also expect an afterlife in Scottish schools, where Sunset Song is already a required text.
In 1932, at is publication, Sunset Song was already looking back to rural life before the widespread mechanisation of agriculture on large farms threw men into unemployment and emigration, and before World War I killed many thousands of them.
Davies, who wrote the script, views these broad trends through the character of Chris Guthrie (Agyness Deyn), a promising pupil who passes up a career as a teacher to remain on the land. John Guthrie (Peter Mullan), her father, is a brutal farmer who drives Chris's mother to suicide after she can't bear the news that she's pregnant again. When John drops dead of a stroke – while working, of course — Chris steps beyond the traditional authority of relatives to marry local worker, Ewan (Kevin Guthrie).
The film gives us a portrait of rural austerity, but even in Davies's limited palette of grey and brown, there is a near-infinite spectrum of hues in dusky interiors and in the surrounding hills. Sunset Song does not come close to romanticising the gruelling life on that land. It's still hard to imagine another director observing it more closely.
Davies' nostalgia-free eye is often described as painterly, an obvious but accurate term. Agyness Deyn has the face of a young woman painted by Whistler, and she also has the willowy grace and colouring of a figure from the paintings of Edward Burne–Jones (1833-98). Some of those painterly aspects of the film come as oblique surprises. When Britain goes to war and the villagers gather in a church, Davies pans from back to front of the interior as a local preacher plans to demand that everyone enlist in a British conflict to fulfil a divine mission. DoP Michael McDonough's slow survey of faces is the cinematic version of a renaissance group portrait, with every visage a study in expression.
Besides Deyn, a former model, is forceful as a woman who balances freedom an sacrifice, and then marries a weak man who appears to have a strong charcter. Kevin Guthrie, as Ewan, excels in an unflattering role as a coward who responds with violence to avoid being called by that name. And Peter Mullan embodies the Old Testament severity of rural Protestantism, with the appropriate white-bearded grimace.
Scots politics, a front-page topic today, enters into Davies's Sunset Song discreetly, through his frank depiction of landed poverty, and in portraying the rousing promotion of the war from which so many Scots never returned.
Davies sums up the war itself, not with battle scenes, but with another elegant pan from above – blue-grey mud, with none of the colours of the Scots landscape, in which we see a boot, a helmet, a caisson wheel and other fragments. Sunset Song the film never wanders too far from the earth that inspired the novel.
Production companies: Hurricane Films, Iris Productions, SellOutPictures
International sales: Fortissimo Films info@fortissimo.nl
Producers: Roy Boulter,Sol Papadopoulos,Nicolas Steil

Executive producer: Bob Last
Screenplay: Terence Davies
Director of photography: Michael McDonough

Editor: David Charap
Production designer: Andy Harris
Composer: Gast Waltzing
Main cast: Agyness Deyn, Peter Mullan, Kevin Guthrie