Christmas in Denmark, with Paprika Steen and Sophie Gråbøl as feuding siblings at a family get-together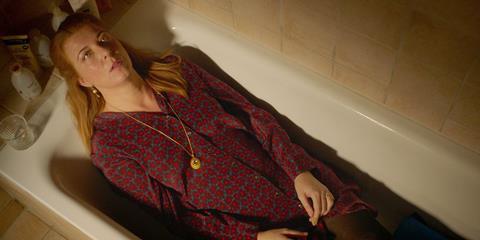 Dir. Paprika Steen. Denmark. 2018. 101 mins
One of Paprika Steen's breakout roles as an actress was in Festen, Dogme's definitive word on family dysfunction. Twenty years later, her third film as a director returns to the rich terrain of errant parents and quarrelsome siblings, though to very different ends. That Time of Year is a Christmas comedy that involves that quintessential Yule paradox: families getting together to celebrate the supposedly festive season when they spend the rest of the year avoiding each other.
A familiar and typically excellent Danish ensemble
Thankfully free of the contrivances of so many English-language films of this ilk, That Time Of Year's increasingly hysterical set-up is founded on believable character dynamics, particularly the buttons that only families can push. A zesty script, fun performances and plenty of recognisable 'bah humbug' merit a seasonal play for audiences who need to have a laugh before diving into the real thing.
Steen herself plays Katrine, who with husband Mads (Jacob Lohmann) is once again hosting the family Christmas, without relish. In attendance: both sets of parents (hers divorced), her siblings, their partners, children and a dog. Before dinner they go to church, where Katrine's sister and freelance priest Barbara (Sophie Gråbøl) gives her first Xmas sermon, in which she predicts the end of the family unit and speaks of infidels – hardly the stuff to instil parishioners with Christmas cheer.
Not surprisingly, the intolerant Barbara will be one of Katrine's most problematic guests, along with her pretentious yet oafish husband Torben (Lars Brygmann), the pair looking to score points wherever they can but invariably hoisted by their own petards. When Barbara declares that she doesn't tell her son about such "nonsense" as Santa Claus, Katrine's retort is that "No, you tell him about God, right?"
Meanwhile, their mother Gunna (Karen-Lise Mynster) is borderline deranged, thinking it entirely appropriate to explain all the family skeletons to a young child, and halting the festivities to offer a divisive sneak peek at her will.
Poor Katrine does insist on her Christmas traditions. The Yule story-telling, singing around the tree, games and present-giving lend structure to the plot and plentiful opportunity for sibling rivalry, jealousy and dim personality to fray everyone's nerves.
Much of the charm of Jakob Weis's script lies in the clichés it avoids: the person destined to have the biggest meltdown of all, but doesn't; the supposedly bad apple who would normally add fuel to the fire, but is a calming influence. And it's the potentially disastrous kids who, ultimately, maintain something like the right spirit for the moment.
Gråbøl may be the best-known of the thesps (sporting a terrifically abundant perm and a gift for comedy), but this is a familiar and typically excellent Danish ensemble. Steen and cinematographer Jens Schlosser orchestrate the histrionics through the suburban house with aplomb, the latter lensing some appealing snowy vistas on the odd occasion the action moves outdoors. The highlight of a cutely selected Christmas soundtrack has to be the gloriously ironic finale, Elvis Presley's If Every Day Was Like Christmas.
Production company: Nordisk Film Production
International sales: Trust Nordisk, info@trustnordisk.com
Producer: Mikael Rieks
Screenplay: Jakob Weis
Production design: Gitte Malling
Editing: Jacob Thuesen
Cinematography: Jens Schlosser
Music: Jeppe Kaas
Main cast: Paprika Steen, Jacob Lohmann, Sophie Gråbøl, Lars Brygmann, Karen-Lise Mynster, Lars Knutzon, Fanny Leander Bornedal, Patricia Schumann