A vividy-styled debut from Turkey plays in Rotterdam's 'Big Screen' competition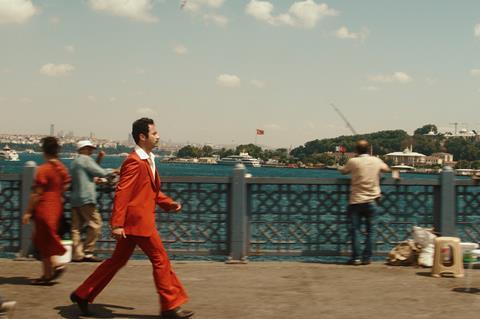 Dir/scr Baris Sarhan. Turkey. 2020. 102 mins
A mall cop at an Istanbul shopping centre, Cemil (Ozan Celik) dreams of a film career and acting glory. Or perhaps he just wants to feel seen. Unfortunately, he is not overburdened by talent or, in fact, any charisma whatsoever. Rejected by a scornful director following a dismal audition for the villain role in a remake of a 1960s "Yeşilçam" era B-movie thriller, Cemil becomes obsessed with Turgay Goral, the actor who played the role in the original film, in this vividly styled but thematically muddy portrait of obsessive fandom and assumed identity.
A blood-drenched conclusion to Cemil's journey seems inevitable.
The feature debut from Baris Sarhan, The Cemil Show was developed from a short film with support from the Sundance Script Lab. It's a visually striking piece, with both the faux archive material and Cemil's oppressively claustrophobic present-day surroundings evoked with flair. Thematically, there's a kinship with pictures like Joker and King of Comedy, but this film's montage-heavy approach lacks the propulsive sense of a loner character hurtling off the rails. Cemil's is a slower, saturating kind of delusion which puddles around him, gradually soaking into his psyche but not delivering much in the way of building tension. The picture's natural home is on the festival circuit, where it might connect with the same audiences who respond to the lurid enigma of Peter Strickland's work.
Even within the shallow pool of personalities working the security detail at the Insipark shopping complex, Cemil is a small fish. Picked on by an autocratic supervisor on a segway, but otherwise ignored and relegated to an airless room lined with banks of surveillance screens, Cemil has plenty of time to dream. Fixated on his one botched chance of an acting career, Cemil obsessively replays the scene from the 60s film, titled Kabus, that he was meant to recreate. But his fascination with the role – and with Turgay Goral (dubbed 'the handsome villain of Turkey') – intensifies when he learns that one of his coworkers, Burcu (Nesrin Cavadzade) is Goral's daughter.
Extravagantly cleavaged and fond of micro-miniskirts, Burcu is conducting a strategic affair with a supervisor who is tipped for promotion. Her hope is that he will be her ticket to a better job at the mall. But when Cemil stumbles upon the pair mid-clinch, he uses the information to inveigle an introduction to her father, Turgay Goral. Unfortunately, Turgay is dead when they arrive.
Cemil becomes determined to fill the Turgay-shaped hole left in Turkish cinema, squatting in the dead man's empty apartment and worshiping at Turgay's shrine to himself. It's a vividly designed space, a man cave filled with a tawny light the colour of malt whisky and lined with posters which have faded, along with the audience's memories of the former star.
Through multiple montage sequences, the film repeatedly emphasises the way that Cemil's personality is colonised by that of Turgay Goral, or to be more accurate, the personality of the moustache-twirling villain that Turgay habitually played. A colour palette which becomes increasingly vivid as the film progresses skews more and more to shades of red, hinting that a blood-drenched conclusion to Cemil's journey is inevitable.
Production company: Sarhan Projects
International Sales: Alpha Violet info@alphaviolet.com
Producers: Baris Sarhan, Umut Egitimci
Editing: Evren Lus
Cinematography: Soykut Turan
Production Design: Billur Turan
Music: Taner Yucel
Main cast: Ozan Celik, Nesrin Cavadzade, Alican Yucesoy, Cezmi Baskin, Basar Alemdar, Fuat Kokek, Ulkunur Arslan