Marc Isaacs opens the doors to his home in this doc/fiction hybrid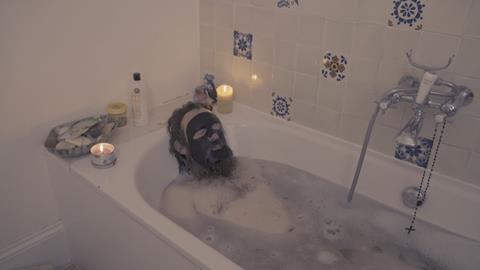 Dir. Marc Isaacs. UK. 2020. 76 mins
A blend of documentary and fiction, which combines scripted scenes with apparently happenstance digressions, The Filmmaker's House is in many ways a departure for documentarian Marc Isaacs. In others, it's a continuation of a career-long fascination with the life that passes through enclosed spaces: a tower block elevator in Lift, a train carriage in Travellers, and now Isaac's own home in this latest picture. But this conceptually malleable film is also a meditation on (and a rebellion against) the process of filmmaking. The four walls of the home and the four sides of the camera's frame are interchangeable. The characters that he invites within – a devout Muslim neighbour, a pair of builders, a homeless man from Slovakia, his cleaner – coexist and interact, slightly uneasily.
There are plenty of ideas at play, but while there are flashes of humour and insight, the film struggles to coalesce into a satisfying whole.
This formal exercise is positioned as a response to an increasingly conservative documentary film industry which, as a skype meeting with a producer makes clear, favours prurient subjects which can be "pitched upwards" - death and crime, preferably together. This, together with an enigmatic tendency to leave questions unanswered, might see this film struggle to match the broader reach of pictures like The Road: A Story of Life and Death, Isaac's humanist study of the A5. However, it could be a talking point within the documentary community, at festivals and beyond, where Isaacs' complaints about the industry and his ingenious response to its myopia will surely touch a nerve.
"An act of hospitality can only be poetic." The quote from Jacques Derrida closes the film, but in many ways, the philosopher's thoughts on the nature of hospitality, the element of exchange and of risk which is inherent, are the jumping off point for the picture. Isaacs offers up his home in exchange for material for his film project; each of the characters offers something – food, kindness, money – in return. All except Mikel, the homeless man whose situation is so desperate that he has nothing to offer except gratitude.
The preconceptions and and prejudices of the builders are challenged by the Muslim neighbour, who brings and serves delicious food for Isaacs and everyone who happens to be in his home. Symbolically, the builders' job is to replace the fence between Isaacs and his neighbours with a lower one. Mary, the cleaner, is dealing with her own grief – her mother died recently – by restoring order to the lives of others. She tenderly washes the encrusted grime from Mikel's feet; she encourages Isaacs to shed the baggage of a troubling film project as a way of self-cleansing.
Isaac's knitting of real people into scripted situations is reminiscent of the approach that Roberto Minervini's took with films like Stop The Pounding Heart and The Other Side, albeit with a more rough and ready visual style. But Isaacs goes further – are the people in his films playing themselves? Or are they characters based on themselves? The artifice of the project is deliberately revealed when a confrontation with Isaacs' impatient wife (which itself may or may not be scripted) halts the filming at a crucial moment. At this point, the picture drops a fair few of the balls it has been juggling. Does it work? There are plenty of ideas at play, but while there are flashes of humour and insight, the film struggles to coalesce into a satisfying whole.
Production company: Lush
Contact: marcisaacs1@gmail.com
Producer: Matthew Shaw, Rachel Wexler
Cinematography: Marc Isaacs
Editor: David Charap, Marc Isaacs
Screenplay: Marc Isaacs, Adam Ganz
Music: Matthew Shaw, Richard Norris, Islet
Featuring: Marc Isaacs, Mikel Novosad, Luz Nery Villada, Keith Martin, Zara Akram