A Kazakhstan family finds their life turns upside down after their patriarch is killed by horse thieves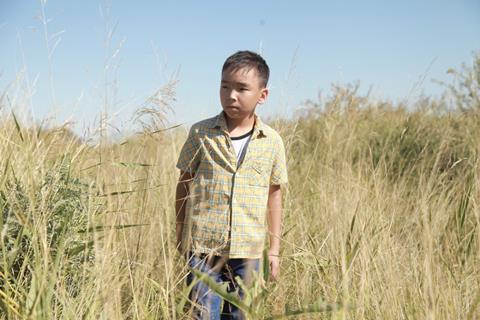 Dirs: Yerlan Nurmukhambetov, Lisa Takeba. Kazakhstan-Japan. 2019. 84mins
The setting is the steppes of Kazakhstan the early 2000s. But there is a timeless quality to this sparse parable about father-son relationships. Herdsman Ondasyn (Dulyga Akmolda) takes 20 horses to a lifestock market. He never returns. But a stranger appears and temporarily fills the gap left in the life of Ondasyn's oldest child, his son Olzhas. Much is left unsaid in this slow-burning drama which gains an epic quality from the wide screen photography but is rather too evasive in its storytelling to fully connect on an emotional level.
Use of sound punctuates the emptiness of the Kazakh vista, and brings subtle emphasis to the restrained storytelling
Co-directed by Yerlan Nurmukhambetov, who won the New Currents Award at Busan in 2015 for The Walnut Tree, and Japanese director Lisa Takeba, The Horse Thieves. Roads Of Time compensates for its narrative economy with striking and atmospheric cinematography. The picture was shot by Berlin Silver Bear winner Aziz Zhambakiev (Harmony Lessons). As such, it's a low-key mood piece which will be best suited to the festival circuit and may struggle to assert itself in a competitive arthouse theatrical market.
Ten-year-old Olzhas sleeps with a toy gun twisted from fence wire next to the bed he shares with his two younger sisters. It's a choice of plaything which foreshadows the tragedy which will befall his family when horse thieves con and then kill his father and two other men. One of the thieves also takes Ondasyn's scratched wristwatch, a decision which will prove to be his undoing. Small acts have far-reaching consequences in this story.
Use of sound – much of it animal and bird based – punctuates the emptiness of the Kazakh vista, and brings subtle emphasis to the restrained storytelling. It's the mewing of a kitten, adopted by Ondasyn as a gift for his children, which alerts a passing shepherd to the bodies concealed in the scrub. Later in the film, the animal's cries are a constant reminder to the bereft Olzhas of his father's absence. The boy is at a point in life where a father's guidance is needed, something which is hinted at by the images of a scantily dressed female bather who haunts his dreams at night.
Ondasyn's wife Aigal (Samal Yeslyamova) finds herself blamed for his death by the local villagers. Although the film never makes explicit why this might be the case, there is a hint of a family debt and the secret which links her to the stranger, Kairat (Japanese actor Moriyama Mirai – an odd piece of casting but not entirely unsuccessful), who returns coincidentally during Ondasyn's funeral.
Missing his father, Olzhas is drawn to Kairat, who in turn has reason to be interested in the child. "You are good with wood and you know how to treat horses," Olzhas tells him approvingly. Kairat replaces the wire gun with a new toy – a hand carved wooden horse. But the violence which claimed Ondasyn is still simmering in the film, and comes to a head with a horseback gun battle, directed, like everything else in the picture, to emphasise the matter-of-fact banality of death rather than the tension of the chase.
Production Companies: Kazakhfilm,Tokyo New Cinema, Inc.
Contacts: kzf.kim@gmail.com info@tokyonewcinema.com
Producer: Julia Kim, Hikaru Kinouchi, Serik Zhubandykov, Shozo Ichiyama
Screenplay: Yerlan Nurmukhambetov
Editing: Akmaral Zykaeva
Cinematography: Aziz Zhambakiev
Art Direction: Sasha Shegay
Music: Nursultan Nuskabekov
Cast: Samal Yeslyamova, Madi Minaidarov, Moriyama Mirai , Dulyga Akmolda