Dir: Francis Lawrence. US. 2015. 137mins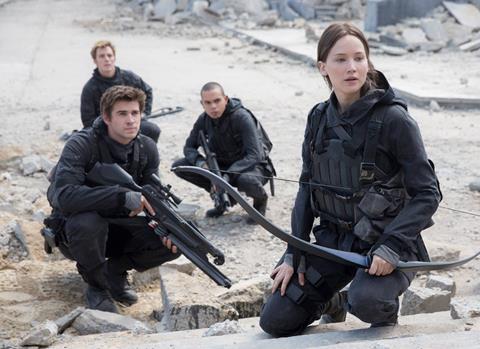 For its final instalment, the Hunger Games saga at last catches fire.
Mockingjay — Part 2 proves to be the most satisfying, gripping and emotional film in the franchise, resolving Katniss Everdeen's odyssey with tense action sequences and a well-earned poignancy. If the series never quite transcended its melodramatic young adult roots or heavy-handed socio-political commentary, this third sequel nevertheless moves along with grim, propulsive confidence, once again leaning on Jennifer Lawrence's steel-jawed performance as a young woman who becomes the unlikely leader of a rebellion over which she has less and less control.
Even more so than with earlier instalments, Part 2 mostly plays out like a dystopian war movie.
Opening across most of the planet by November 20, the conclusion to the Lionsgate cash cow will look to top the $865m that 2013's Catching Fire earned worldwide. (Last year's Mockingjay — Part 1 brought in a little more than $755m.) With SPECTRE its only real action competition, Part 2 should enjoy major commercial success, its large theatrical haul well in hand before Star Wars: The Force Awakens arrives in mid-December.
Picking up right where Part 1 ended, the new film finds Katniss (Jennifer Lawrence) coping with the fact that the freshly rescued Peeta (Josh Hutcherson) has been brainwashed by the Capitol to believe that she is the enemy of the people. Katniss, Peeta, Gale (Liam Hemsworth) and a group of elite soldiers prepare to invade the Capitol in the hopes of assassinating the evil President Snow (Donald Sutherland) and ending his reign of terror over Panem. But Snow is actually aware of their plan and has set a trap, savouring the opportunity to crush this rebellion permanently.
For the third straight Hunger Games film, Francis Lawrence handles the directing duties, and Part 2 allows him to show off the clammy, claustrophobic dread that was a highlight of his 2007 post-apocalyptic drama I Am Legend. (In fact, like that Will Smith vehicle, Part 2 features a sequence with rampaging, zombie-like monsters whose frantic, swift movements and menacing yells are utterly nerve-wracking.) Even more so than with earlier instalments, Part 2 mostly plays out like a dystopian war movie, with Katniss and her small squadron braving a booby-trapped city on their quest to kill Snow.
What has always been lacking in this franchise remains troublesome in Part 2. The awkward love triangle between Katniss, Peeta and Gale tends to slow down the momentum — in truth, neither Hutcherson nor Hemsworth ever seemed dynamic enough for the fiery Jennifer Lawrence — but there are a couple of tender small moments this time around that at least make this romantic drama resonate.
Likewise, the series (based on the Suzanne Collins novels) rarely had much interesting to say thematically about reality-television sensationalism, tyrannical governments or people's willingness to be distracted by mindless spectacle. But as in Part 1, the new film proves to be a little more thoughtful in its societal observations, particularly when examining how political uprisings can be as sinister as the corrupt governments they're trying to overthrow.
Still, Part 2 succeeds on the strength of its payoffs, whether through Francis Lawrence's ability to deliver the best action sequences of the franchise or during nuanced character beats that bring closure to storylines. In this final film, death stings more than it has in the past, partly because we've built up a greater connection to those who are killed. The director, working from a script by Peter Craig and Danny Strong, gives Part 2 a greater scope and a darker tenor that's befitting the battle-to-the-death stakes at the centre of this film, and he's assisted by Philip Messina's lavishly bleak production design.
To be sure, Oscar-winner Jennifer Lawrence has had richer, more compelling characters to play in her brief career. But even if Katniss is a little too bland of a reluctant-hero archetype, the actress finds variations on a one-note role. She ably guides the character to a finale that's nicely measured, not quite offering the rousing resolution some might expect.
Similarly, her supporting cast, which is filled with venerable actors, are mostly playing pungent types: These won't be roles that define their careers, but the performers bring a professional polish to them. Julianne Moore is tartly suspicious as the calculating leader of the rebellion, while the late Philip Seymour Hoffman does fine work in a small part as her kinder second-in-command. (It does appear that Hoffman had to be digitally added posthumously to at least one scene to close a narrative loophole, however.)
Reprising their roles as former Hunger Games officials, Woody Harrelson, Elizabeth Banks and Stanley Tucci don't have much to do, a testament to the fact that, as this series has gone along, the focus has shifted more and more to Katniss and her competing love interests. The Hunger Games was consistently an incongruous mix of serious and silly, of teen romance and sci-fi cautionary tale. But in Part 2, Jennifer Lawrence reminds us yet again how her bedrock presence helped give this franchise its wings.
Production companies: Color Force, Lionsgate
Worldwide distribution: Lionsgate, www.lionsgate.com
Producers: Nina Jacobson, Jon Kilik
Screenplay: Peter Craig and Danny Strong, adaptation by Suzanne Collins, based upon the novel Mockingjay by Suzanne Collins
Cinematography: Jo Willems
Production design: Philip Messina
Editors: Alan Edward Bell, Mark Yoshikawa
Music: James Newton Howard
Website: www.thehungergames.movie
Main Cast: Jennifer Lawrence, Josh Hutcherson, Liam Hemsworth, Woody Harrelson, Elizabeth Banks, Julianne Moore, Philip Seymour Hoffman, Jeffrey Wright, Willow Shields, Sam Claflin, Jena Malone, Natalie Dormer, Stanley Tucci, Donald Sutherland