A social worker takes on the Italian mob in Leonardo Di Costanzo's social drama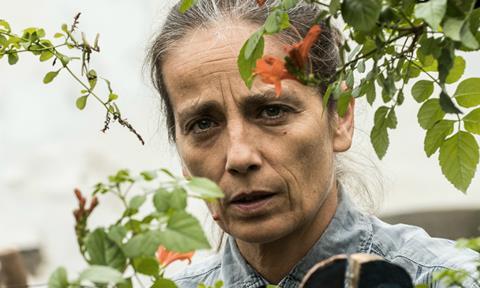 Dir. Leonardo Di Costanzo. It/Switz/Fr. 2017. 95 mins.
An idealistic children's worker in a run-down Neapolitan neighbourhood struggles to persuade the community that her policy to help every needy kid should extend to the daughter of a Camorra killer. It's a moral dilemma with consequences that extend far beyond the wellbeing of a little girl - it could destroy everything that Giovanna (Raffaella Giordano) has strived to create. An unpolished, no-frills production which has the kind of gritty compassion which invites comparisons to the work of Ken Loach and the Dardennes brothers, The Intruder is heartfelt, but small of scale.
A forceful central performance from Raffaella Giordano is the film's driving force
A forceful central performance from Giordano as the unflappable social worker is the film's driving force. It's a crucial element, particularly given that the acting quality on show in some of the supporting performances is somewhat uneven. This, together with a murky, rough and ready quality to some of the hand held camerawork, might mean that the film is best suited to small screen platforms. That said, festival bookings should follow, with the picture being of particular interest to events with a bias towards social commentary.
Italian children's centre La Masseria is a haven of paint pots, papier maché dragons and dreams which sits in the shadows of slab-like concrete tower blocks. Every day after school, the local kids pile in, their energy and anger channelled into creating puppets and a giant recycled robot called Mister Jones. In the grounds is a dilapidated shed, roofed in corrugated iron and with a slit for a window, which is offered up as emergency shelter for desperate families.
Social worker Giovanna has a rude awakening, however, when it turns out that Maria (Valentina Vannino), the hard-faced mother who has moved in with her baby and her daughter Rita (Martina Abbate), is concealing her husband, a Mafia enforcer on the run from the police. When the cops blaze in and arrest the man, Giovanna finds herself associated with the very organised crime infrastructure that she is fighting against.
The combative and fiercely independent Maria stays on in the hut; chin high, impervious to the stabbing sidelong glances of the neighbours. And although Giovanna would much rather the family moved on, in Rita, she sees a bruised little child in danger of growing up far too quickly. "Are you always this sad and ratty?" she asks the child, after her overtures are rebuffed. "Just today," says Rita, her aggression suddenly defused.
The shadow of the Camorra looms large over the community. Another child, Ernestina, has been mute since she witnessed her father's brutal beating at the hands of Rita's dad and his goons. And the gang of tough little boys who adopt Rita as one of their own show her their secret: a severed human hand which has been lying in a bush for weeks. So it's no surprise to Giovanna when the parents threaten to boycott the club until the perceived mafia connection is severed. Giovanna's refusal to sacrifice one vulnerable child temporarily loses all the others.
A bittersweet ending is a slight cop out, in that it takes the decision out of Giovanna's hands. Nevertheless, an infectiously joyous party scene ends the film on a note of hope.
Production company: Tempesta, Amka Films Productions
International sales: The Match Factory info@matchfactory.de
Producer: Carlo Cresto-Dina
Screenplay: Leonardo Di Costanzo, Maurizio Braucci, Bruno Olivero
Cinematography: Helene Louvart
Editor: Carlotta Cristiani
Music: Marco Cappelli, Adam Rudolph
Production design: Luca Servino
Main cast: Raffaella Giordano, Valentina Vannino, Martina Abbate, Anna Patierno, Marcello Fonte, Gianni Vastarella