The brutal rape of a black woman in 1944 Alabama is the basis for Nancy Buirski's exploration of race and civil rights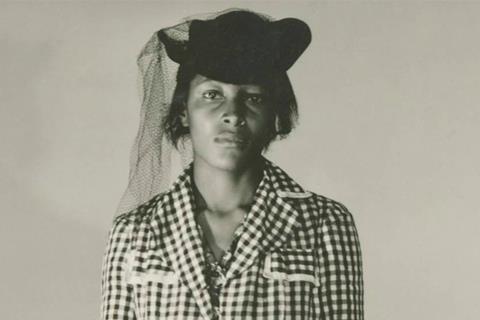 Dir: Nancy Buirski. USA. 2017. 90m.
An enquiry into the brutal rape of a black woman in 1944 Alabama broadens into an alternative, female-gaze civil rights documentary in Nancy Buirski's latest. The film continues an exploration into the interface between race, women's stories and civil rights in the Southern States that the filmmaker launched in The Loving Story (2011), about the interracial marriage of Richard and Mildred Loving, which became the basis for the 2016 dramatic feature Loving.
Gradually the film's interview roster broadens to take in writers and academics
Just before The Rape of Recy Taylor's premiere at Venice, where it screened in the Horizons sidebar, it was announced that ICM Partners and Wide House had teamed up to distribute the documentary, with ICM handling North American and Wide House selling elsewhere. The same deal was reached earlier this year on Raoul Peck's Oscar-nominated documentary I Am Not Your Negro. But that had the galvanising charisma of its central focus, black American writer James Baldwin, to steer it into theatres, whereas this sober, well-told story seems more ideally suited to further festival action and, perhaps, a prestige cable or VOD berth.
An opening caption fills us in on the "staggering" number of rapes of black women by white men in "our country's past" and the fact that very few of the victims were brave enough to report these crimes. A second tells us that Recy Taylor's story will partly be told through 'race films', vintage footage and home movies.
It's the former that is perhaps the most formally innovative aspect of the film. Race films were made by black directors like Oscar Micheaux with black casts, for black audiences. Like newspapers serving America's black population, they dealt with issues, like white-on-black rape, that rarely surfaced in the country's mainstream media. Spliced in among documentary archive material and interviews with experts and family members, scenes from films like Within Our Gates (1920) or Birthright (1939) hold up a melodramatic foil to the sober account of injustice and its aftermath.
Recy Taylor was a married 24-year-old sharecropper and mother when she was abducted on her way home from church in Abbeville, Alabama, in September 1944 by six teenage white boys, and raped at gunpoint by five of them in succession. It's Recy's younger brother Robert Corbitt and sister Alma Daniels who initially tell the story, their quiet but passionate accounts testifying to the power of bearing witness.
Black and white photos of Recy and other figures in the story are intercut with impressionistic footage of Abbeville streets and the woods where the crime is presumed to have taken place. We're told how the family house was firebombed after Recy reported her assault, how her father slept in a tree in the garden with a shotgun. Later sections chart not only the injustice done to Taylor in the white-dominated courts but the inability, years later, of the families of her attackers to admit that these were any more than "boys trying to have a little fun".
Gradually the film's interview roster broadens beyond the family and Abbeville to take in writers and academics like Yale professor Crystal Feimster and historian Danielle L McGuire, whose book At the Dark End of the Street inspired Buirski to make the film. There's a widening of the narrative and themes in this middle section, too, as civil rights activist Rosa Parks' involvement with the Committee for Equal Justice for Mrs Recy Taylor leads the story towards the bus boycott in state capital Montgomery and the eventual ending of racial segregation in the States.
As Feimster points out, the traditional image of Martin Luther King addressing an adoring female audience misrepresents a struggle to which courageous women like Taylor or Parks made a crucial contribution. A soundtrack that includes Afro-American folk songs by singers such as Fannie Lou Hamer effectively drives the point home.
Production companies: Augusta Films, Transform Films Inc
International Sales: Wide House, ac@widehouse.org
Producers: Nancy Buirski, Beth Hubbard, Claire L Chandler, Susan Margolin
Executive producers: Regina K. Scully, Geralyn White Dreyfous, Amy Tiemann, Mark Trustin, CarolAnne Dolan, Derrick Harkins, Nick Stuart-Jones, Barbara Dobkin, Bobby Kondrat, Jack Turner
Cinematography: Rex Miller
Editor: Anthony Ripoli
Music: Randall Poster