Dir. Ido Fluk. 2016. USA. 100 min.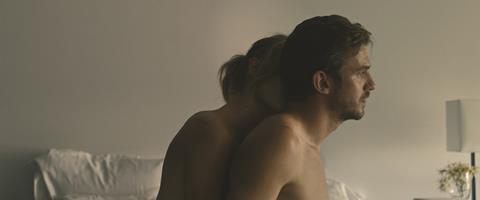 Watching The Ticket, it's hard not to think of the Talking Heads hit Once In A Lifetime. Halfway through the film, the protagonist James Harvey (Dan Stevens) finds himself with the equivalent of "a large automobile…in a beautiful house, with a beautiful wife" – actually a swish pad and a hot live-in girlfriend, both newly acquired – and then asks himself "how did I get here?" How he did, and why he has cause to regret it, is what drives director Ido Fluk's demanding spiritual fable, which is currently screening in the US Narrative section of New York's Tribeca festival.
All credit to Dan Stevens for rendering so vividly a selfish, abrasive character in a project that'll appeal not one whit to his old Downton Abbey fan base.
James's grasping at the outward trappings of success has cost him the vital relationships in his life, making it not worth living. His plight, made pitiful by Stevens's unerring portrayal of an initially likeable if innocuous guy who loses his moral bearings and becomes an insufferably arrogant Alpha male, prompts the Goethe-derived adage "Be careful what you wish for…". But that's too simplistic a conclusion to draw from a movie that raises serious questions about the validity of faith – James believes in God and daily gives thanks for his life when praying – and the fragility of love.
Cautioning against materialism is scarcely an original movie subject: think You Can't Take It With You, Citizen Kane, and the more recent The Bling Ring and The Brass Teapot. Fluk and his co-writer Sharon Mashihi were inspired, however, when they devised a metaphoric prism through which to filter James's experiences. As well as being the happily married husband of the attractive, altruistic Sam (Malin Åkerman) and the doting father of a 13-year-old boy (Skylar Gaertner), real-estate phone sales operator James is also a blind man who, at the start of the movie, is shocked to find he's reacquiring his sight, which he'd lost in his youth.
There's a strong biblical aura about the ensuing parable: content with his lot and emotionally clear-sighted when he couldn't see, James loses perspective completely when his unclouded eyes feast on what to him are shiny new cars, clothes, and women (in respect of whom he's like a more circumspect version of Robert De Niro's suddenly lustful character in Awakenings). Provoked by the mocking air of his gorgeous colleague Jessica (Kerry Bishé) into making her his mistress, James simultaneously concocts a legitimate but venal ruse to fleece naïve working-class mortgagers and becomes his boss's favorite employee.
In the cod evangelical patter that he uses to separate his hapless audiences from their money, he incorporates a cryptic joke – stolen from his blind friend and co-worker Bob (the excellent Oliver Platt) – about a man who has longed all his life to win the lottery but has never bought a ticket. Connoting the idea that you only get out of life what you put into it, the joke backfires on James and sets him up for a fall. Having deserted his family and moved in with Jessica, he is incensed when he learns that Bob is courting Sam and crashes their date at one of the dances for the visually impaired that she regularly attends though fully sighted herself.
The Ticket is the second feature directed by New York University film school grad Fluk. Like his debut, the spartan 2011 road movie Never Too Late, which was the first Israeli feature to be crowd-sourced, it is a first-rate example of unsentimental, minimalistic indie filmmaking. Cinematographer Zach Galler evokes James's rebirth as a seeing person via a decreasingly murky mise-en-scène that morphs into an impressionistic look. The sound initially seems distanced from the visuals but is gradually harmonized with it as James gets used to his new condition. His trajectory necessitates further changes in the film's elaborate aural-visual scheme.
There's an Antonioni-like quality to Fluk's images of alienation, and an Antonioni-like humorlessness to his storytelling, too. A mood of unease – brilliantly enhanced at key moments by amplification of xylophonic sounds in the score – preserves The Ticket from a fatal solemnity, though it's a film that will still struggle to find a sizeable audience beyond the festival circuit. All credit to Dan Stevens for rendering so vividly a selfish, abrasive character in a project that'll appeal not one whit to his old Downton Abbey fan base.
Production companies: BCDF Pictures, Cave Pictures, Initiate Productions, Liberty Liquid Films, Lightstream Entertainment, Rush River Entertainment
US sales: Blackbird Films, lawrence@thisblackbird.com
International sales: The Solution Entertainment Group, lisa@thesolutionent.com
Producers: Lawrence Inglee, Oren Moverman, William H. Walton, Matthew J. Malek, Claude Dal Farra
Executive producers: Dale A. Brown, Mark Rodgers, Tyler Zacharia, Nick Byasse, Katie Heidy, Lisa Wilson, Myles Nystel, Frederick Taouil
Screenplay: Ido Fluk, Sharon Mashihi
Cinematography: Zack Galler
Production design: Gino Fortebuono
Editor: Phillip Kimsey
Music: Danny Bensi, Saunder Jurriaans
Main cast: Dan Stevens, Malin Akerman, Kerry Bishé, Oliver Platt, Skylar Gaertner