Chris Hemsworth and Natalie Portman are reunited in Taika Waititi's rousing follow-up to 'Thor: Ragnarok'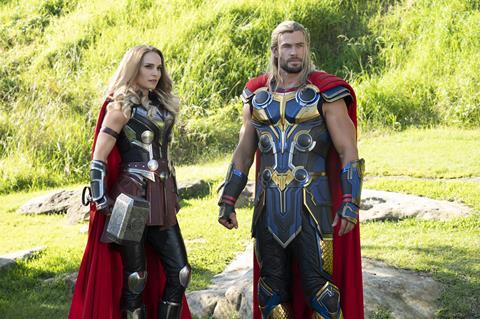 Dir: Taika Waititi. US. 2022. 119mins
Building off the success of 2017's Thor: Ragnarok, director Taika Waititi has crafted a follow-up that's funny and emotional (if occasionally a little unfocused and jokey), and a solid addition to the big screen legacy of the Asgardian god. Thor: Love And Thunder benefits from the return of Natalie Portman, whose chemistry with Chris Hemsworth remains one of the Marvel Cinematic Universe's most underrated assets, powering a cautious love story that grounds an amusing adventure which grows more serious as it reaches an affecting finale.
Waititi goes for a darker, more rousing tone in later reels, the one-liners and sight gags taking a backseat to a more sombre exploration of love and sacrifice
Disney releases Love And Thunder on July 7 in the UK and a day later in the US, hoping to match the commercial riches of recent MCU titles such as Spider-Man: No Way Home ($1.9 billion worldwide) and Doctor Strange In The Multiverse Of Madness ($951 million to date). Here, Hemsworth and Portman square off with a new villain, played by Christian Bale, and the ensemble also features Tessa Thompson and Russell Crowe. Ragnarok ($854 million) was the highest-grossing of the three Thor films to date, and having Waititi back behind the camera should convince the faithful that the series remains in good hands.
Back to fighting form after gaining weight and feeling sorry for himself during Avengers: Endgame, Thor (Hemsworth) is determined to protect New Asgard, confronting a terrifying foe, Gorr (Bale), who has the power to kill gods. But to Thor's surprise, a woman from the past reenters his life; Jane (Portman) is now able to harness the mighty hammer Mjolnir and wants to help him defeat Gorr — even though she and Thor ended their romantic relationship years ago on bad terms.
Waititi, who also co-wrote the screenplay, revitalised the Thor series with Ragnarok, which drew on Hemsworth's comedic timing for a story that sported an irreverent sense of humour and understated pathos. The Oscar-winning filmmaker goes for the same tonal mix on Love And Thunder, though not always as confidently. The picture's early stretches, which have to contend with MCU logistical housekeeping involving the Guardians Of The Galaxy, are a bit laboured, and only fitfully funny as Waititi sets his plot in motion. (He also introduces the first of several montages scored to Guns N' Roses songs, a tongue-in-cheek gambit that's not quite as witty as he imagines.)
But once Thor encounters the ghoulish Gorr, with Bale's voice a creepy whisper, Love And Thunder gains comedic and narrative momentum augmented by the return of Jane. The film plays their awkward reunion for laughs — the strident god Thor tries very hard to pretend he's over her — although Hemsworth and Portman exude sufficient tenderness that we're invested in their relationship. The 2011 Thor depicted Thor and Jane as an adorably mismatched pair — he's all-powerful, she's a mere mortal — but in Love And Thunder there's a newfound mutual respect that befits how much better they know each other, even though one of them is hiding a secret that will impact their future.
Marvel films don't have a great track record when it comes to quality bad guys, but Gorr gives the proceedings a jolt of menace. Waititi presents just enough backstory so we understand this killer's motivations, while Bale plays the character as nearly inhuman; his body and soul poisoned by his desire to spread death across the galaxy. The fight sequences get progressively more accomplished, with Waititi's creative team not overdoing the special effects or whiplash-inducing editing. And when Love And Thunder reaches its finale, there's room for a surprisingly thoughtful undercurrent that gives the expected action extravaganza a welcome emotional nuance.
Love And Thunder misses the presence of Hulk, which allowed Ragnarok to be an unlikely buddy comedy between Bruce Banner and Thor. Still, that film's Valkyrie (Thompson) remains a sly comedic sidekick, her sardonic responses always nicely cutting. Likewise, Thor's trusty comrade Korg (Waititi) continues to be a deadpan delight. Some of the new characters end up being underwhelming — especially Crowe as a self-involved Zeus — but the film's cheeky, cheerful tone keeps the story bouncing along, even when the quips get stale from time to time.
Impressively, Waititi goes for a darker, more rousing tone in later reels, the one-liners and sight gags taking a backseat to a more sombre exploration of love and sacrifice. Love And Thunder doesn't always gracefully execute its balance of light and dark but when the film focuses on the unshakeable bond between Thor and Jane, the results can be mighty moving.
Production company: Marvel Studios
Worldwide distribution: Disney
Producers: Kevin Feige, Brad Winderbaum
Screenplay: Taika Waititi & Jennifer Katyin Robinson
Cinematography: Barry Idoine
Production design: Nigel Phelps
Editing: Matthew Schmidt, Tim Roche, Jennifer Vecchiarello, Peter S. Elliot
Music: Michael Giacchino & Nami Melumad
Main cast: Chris Hemsworth, Christian Bale, Tessa Thompson, Jaimie Alexander, Taika Waititi, Russell Crowe, Natalie Portman