Dir. Paddy Breathnach. Ireland. 2015. 100mins.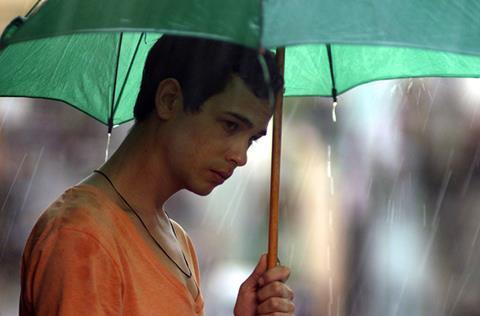 There may not be too many surprises in this Irish/Cuban tale of a young gay man's troubled relationship with his father. But the vivid backdrop of Havana's drag clubs and tawdry cruising grounds, coupled with quality of the work both in front of and behind the camera, give Paddy Breathnach's picture a crowd-pleasing momentum which could translate into theatrical success with LGBT audiences and beyond after a festival run which started in Telluride and moved onto Busan.
Havana seems steeped in a vibrant, voluptuously sensual atmosphere, which is accentuated by the soundtrack
Willowy teenager Jesus (Héctor Medina) scrapes a living by doing old ladies' hair and wrangling the wigs of a raucous gaggle of drag artists. But he dreams of something more. Alone since his mother died and his already absent father was incarcerated for murder, Jesus wants something for himself. He wants to perform in drag, alongside his mentor and protector Mama (Luis Alberto Garcia, combining the physique of a hod carrier with the on stage intensity of Shirley Bassey).
Jesus gets his wish and his alter ego, Viva, is born. But then, just as Viva is starting to relish the limelight, a man from the crowd punches her in the face. It is Angel, (Jorge Perugorria), Jesus' father, released from prison and back in his life.
Cut lip patched up by Mama, Jesus heads home to discover, to his horror, that his father has moved into his tiny apartment. What's more, Angel swiftly curtails Jesus' drag career. "You won't be doing it again," he says, and his words hit home with every bit the same force as his fist.
The drag queens are sympathetic. "My father was a nasty bastard," says Cindy. "Until I hit him with a tyre iron." But Mama is not prepared to risk more violence in the club and bans Viva from performing.
Meanwhile the triumphant return to the boxing club envisaged by former fighter Angel does not materialise, and he takes to hanging around, offering unsolicited advice and sucking on a rum bottle like a pacifier.
Without the income from performing, and with his increasingly booze-sodden father drinking his meagre savings, Jesus starts to turn tricks in order to survive.
The screenplay, written by Mark O'Halloran (Adam & Paul, Garage), who also appears in the film as one of Jesus' johns, hits plenty of the familiar beats of the gay coming of age story. But the fact that the trajectory of Jesus' story is easy to predict doesn't lessen the emotional punch that the film delivers.
It's a handsome production. Cinematographer Cathal Watters makes the most of the honeyed light of Havana, "the most beautiful slum on earth" according to Angel. The whole city seems steeped in a vibrant, voluptuously sensual atmosphere, which is accentuated by the soundtrack: both Angel and Jesus love lush Cuban salsa and son from the 1940s.
As Jesus, Medina combines androgynous fragility with a the kind of bone-deep sadness which keeps him slightly apart from the brassy dramas that play out around him. And as Viva, he taps into that sadness and lets it flow. However, the most affecting moment comes during an impromptu duet with Mama, when Jesus, not in drag at the time, is at his lowest ebb.
Production company: Treasure Entertainment
International sales: Mongrel International, international@mongrelmedia.com
Producers: Rebecca O'Flanagan, Robert Walpole
Screenplay: Mark O'Halloran
Cinematography: Cathal Watters
Editors: Stephen O'Connell, James Dalton
Production designer: Paki Smith
Main cast: Jorge Perugorria, Luis Alberto Garcia, Héctor Medina, Luis Manuel Alvarez, Maikel Machin Blanco, Laura Aleman