Shot on an iPhone 6, director Shlok Sharma's drama focuses on Mumbai's disaffected youth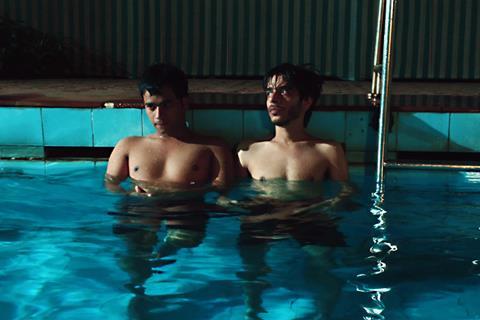 Dir: Shlok Sharma. India. 2017. 94mins.
Drugs are the ruin of many a good soul in Zoo, an ambitious ensemble drama from Haraamkhor (2015) director Shlok Sharma. Tracing the lives of youngsters trapped by circumstances and the lack of opportunities, the film is modestly engaging but might seem awfully familiar to regular viewers of similar independent ventures from America or the UK. Unusual Mumbai locations and the novelty of it having been shot entirely on an iPhone s6 adds to the potential for further festival exposure.
The results from filming on an iPhone are impressive, and the finished article is polished and professional
Everyone in Zoo is looking to get rich or be happy, discontent with a life that seems stuck on a predetermined path. Mute waiter Bicky (Shashank Sunny Arora) smiles and charms his way into the hearts of the customers at the cafe where he works. In reality, he can talk perfectly well and has a lucrative sideline is selling drugs hidden in sachets of sugar. He supports his hotheaded younger brother Messi (Rahul Kumar), a promising footballer constantly demanding more money and resentful of the authority his brother exerts over him.
Bicky is the main figure in the ensemble and has the most developed character arc as he starts to question his life dealing drugs. He is also solicitous towards regular client Misha (Shweta Tripathi), a young woman who never leaves her apartment and appears haunted by a past tragedy. Woven through the film is the story of Prince (Prince Daniel) and Yoku (Yogesh Kurme), aspiring Dharavi rappers who have modelled themselves on Tupac Shakur and Biggie Smalls; although they feel like part of a separate film rather than something that has been fully integrated into Zoo.
The results from filming on an iPhone are impressive, and the finished article is polished and professional. Scenes of Messi playing football have a bounce and liveliness that stem from being right in the heart of the action. It is an atmospheric film set between the slum areas and the high rise apartment in a city of extremes, and there is added flavour from scenes on a sandy beach area where Messi hangs out with his friends or trips through the city at night to clubs and parties that seem the same the world over.
Shashank Sunny Arora makes Bicky an engaging central figure but dark shadows under the eyes, emotional outbursts and gibberish monologues are not quite enough to convince us that some of the other characters are in the grip of addiction. This tale just needs a little more bite and intensity to make it more memorable.
Production companies: Fundamental Pictures, Bahadur Film, Anurag Kashyap
International sales: Fundamental Pictures fundamentalshlok@gmail.com
Producers: Anurag Kashyap, Vikramaditya Motwane, Vasan Bala, Shlok Sharma
Executive producer: Anupama Ahluwalia
Screenplay: Shilpa Srivastava, Shilpa Shlok
Cinematography: Rangarajan Ramabadran
Editor: Aarti Bajaj
Prod design: Pradipta Ray (Podu)
Music: r. venkatraman
Main cast: Shashank Sunny Arora, Shewta Tripathi, Rahul Kumar