World premieres of new features from the US, South America and Asia; titles include A Woman, A Part starring Mad Men's Maggie Siff; jury named.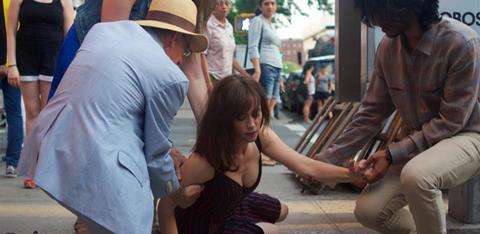 International Film Festival Rotterdam (IFFR) has revealed the eight titles that will compete in the revamped Hivos Tiger Awards Competition at this year's 45th edition (Jan 27-Feb 7).
The titles are:
History's Future - Fiona Tan (Neth)
The Land Of The Enlightened - Pieter-Jan De Pue (Bel-Neth-Ire-Ger)
Motel Mist - Prabda Yoon (Thai)
Oscuro Animal - Felipe Guerrero (Col-Arg-Neth-Ger-Gre)
Radio Dreams - Babak Jalali (US)
La Ultima Tierra - Pablo Lamar (Par-Neth-Chi-Qat)
Where I Grow Old - Marília Rocha (Bra-Por)
A Woman, A Part - Elisabeth Subrin (US)
All are world premieres, except The Land Of The Enlightened, which will receive its European premiere at IFFR after screening at Sundance in the world cinema documentary competition.
Other notable titles include US drama A Woman, A Part, which stars Maggie Siff (Mad Men, Sons Of Anarchy) as a burned-out actress who leaves Hollywood to return to Brooklyn and reinvent herself. [Scroll down for more on this year's Tiger titles]
This year's IFFR jury comprises Dutch film critic Peter van Bueren, Tunisian actress Hend Sabry, Thai filmmaker Anocha Suwichakornpong, award-winning Portuguese director Miguel Gomes and Hans Hurch, festival director of Vienna International Film Festival.
The winners will be announced during the official awards ceremony on Feb 5.
As previously announced, the field has been narrowed from 15 films competing for three equal awards of €15,000 to eight films vying for a single Hivos Tiger Award worth €40,000, to be shared by director and producer.
In addition, a special jury award worth €10,000 will be presented to an "exceptional artistic achievement" within the competition.
It marked the first major change at the festival since Bero Beyer was appointed general and artistic director of IFFR, replacing Rutger Wolfson.
Speaking of the changes, Beyer said: "We want to offer the most innovative, original and challenging works on the biggest platform possible, as well as honouring and celebrating these in the best possible way. This was the reason we decided to find a new form for the Hivos Tiger Awards Competition.
"Not only is the prize money higher, but from the upcoming festival, every day a new 'Tiger' will be put in the spotlight, with full attention for that film that day. All of the films selected are exceptional. We are honoured to have these fantastic films premiering at IFFR, so they can be discovered by a wide audience."
Titles
The inclusion of History's Future, by director and artist Fiona Tan, was first announced in September.
Tan's screenplay, written with Screen International film critic Jonathan Romney, stars Mark O'Halloran (Calvary), Denis Lavant (Holy Motors) and Johanna ter Steege (Spoorloos).
Part fiction, part documentary and part essay probing the world of today, History's Future is about "a man's odyssey through the turbulence of Europe and his own spirit".
The Land Of The Enlightened is a documentary that marks the feature debut of Belgium's Pieter-Jan De Pue and centres on a group of Kuchi children in Afghanistan who dig out old Soviet mines and sell the explosives to child workers in a lapis lazuli mine.
Motel Mist is an erotic drama that marks directorial debut of one of Thailand's Prabda Yoon, who previously wrote Berlinale titles Invisible Waves (2006) and One Night Husband (2003) as well as Venice/Toronto title Last Life Of The Universe (2003).
Oscuro Animal by Colombian filmmaker Felipe Guerrero centres on the journey of three women forced to flee their homes following a violent conflict in their region.
Radio Dreams is a comedy about an Iranian writer who pursues an ambitious goal of bringing together Metallica and Kabul Dreams, Afghanistan's first rock band. It marks the second feature of Babak Jalali, whose Frontier Blues debuted at Locarno in 2009.
La Ultima Tierra, the debut feature of Paraguay's Pablo Lamar, centres on an elderly couple living on an isolated hill who prepare for her death. Lamar's two earlier shorts, I Hear Your Scream and Night Inside, premiered at Cannes.
Where I Grow Old, from Brazilian filmmaker Marília Rocha, portrays the daily life of a Portuguese 25 year-old who decides to build a life in Brazil after moving from Lisbon. Rocha's documentaries Acacio and Like Water Through Stone played at IFFR in 2008 and 2009 respectively.
A Woman, A Part, from US director Elisabeth Subrin, centres on an exhausted, workaholic actress who abruptly extricates herself from a successful but mind-numbing TV role, returning to her past life in New York to reinvent herself. The film stars Maggie Siff, best known for her roles in US TV dramas Mad Men and Sons Of Anarchy.