The Sydney Film Festival will showcase vital female directing talents in 2017.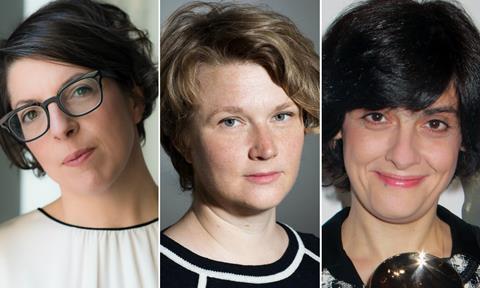 After a strong maiden outing in 2016, Sydney Film Festival will once again shine a spotlight on emerging European female directors.
Europe! Voices of Women in Film will highlight new features from 10 talents during the festival's 12-day run from June 7-18, and see five filmmakers introduce their work to Australian audiences and participate in an in-conversation session. We profile the 10 directors below.
Festival director Nashen Moodley always intended that the programme would become a regular fixture, and last year's sold-out screenings and networking events helped bring this to fruition. "It went phenomenally well," Moodley says. "It seemed obvious that we would do it again."
Held in conjunction with European Film Promotion and Screen International, Europe! Voices of Women in Film aims to address gender diversity in the industry.
Research by the Center for the Study of Women in Television & Film at San Diego State University indicates that only 7% of 2016's 250 top-grossing films were directed by women.
Petra Biondina Volpe - The Divine Order
Petra Biondina Volpe wasn't supposed to become a filmmaker. "To the despair of my parents, I went to an experimental art school, where I started to play around with video and performance," the Swiss-born writer-director says.
Volpe studied at the Film Academy Konrad Wolf in Potsdam Babelsberg. Her 2001 student film Crevetten won the Action Light Award at Locarno International Film Festival.
Her debut feature in 2013, Dreamland, brought her to broader attention in Switzerland, where the film enjoyed a local theatrical release and was nominated for four Swiss Film Awards.
The Divine Order is Volpe's second feature. A period-set effort delving into female suffrage in her homeland, it won the 2017 Swiss Film Award for best screenplay and the audience award at Tribeca Film Festival.
Tizza Covi - Mister Universo
Tizza Covi's latest effort, Mister Universo, continues a fascination that she has explored throughout her career.
As the Italian filmmaker did in Little Girl (2009) and The Shine Of Day (2012) with frequent collaborator and co-director Rainer Frimmel, she blends documentary and fiction as she steps back into the circus realm. "For me, the world of circus performers has a never-ending charm," she explains. "I could tell stories about them forever."
The duo's first venture into this world earned the Europa Cinemas Label at Directors' Fortnight in Cannes, while their follow-up took home three awards, including best actor, at Locarno.
The pair has also directed documentaries Das Ist Alles (2001), Babooska (2005) and The Photographer In Front Of The Camera (2014). Covi and Frimmel both studied photography at the Vienna Higher College for Graphic Art.
Hope Dickson Leach - The Levelling
A 2007 Screen International UK Star of Tomorrow, Hope Dickson Leach completed her MFA in filmmaking at Columbia University. "I thought I wanted to be a painter, but the narrative challenges in cinema bewitched me," she says.
In New York, Dickson Leach was an assistant on Todd Solondz's Palindromes. She completed three shorts during her studies, with thesis effort The Dawn Chorus screening at Sundance, Edinburgh and London.
Back in the UK, she created shorts for Channel 4, Film London, the UK Film Council and the National Theatre of Scotland. In 2016, she received the first IWC Filmmaker Bursary Award in association with the BFI.
Premiered in Toronto in 2016, her first feature The Levelling, a drama set in a farming community in England's rural south-west, saw Dickson Leach nominated for best debut screenwriter at the British Independent Film Awards. It opened in the UK in May.
Rusudan Glurjidze - House Of Others
"As a child, I spent almost every day at the cinema," Rusudan Glurjidze says.
Now, the Georgian writer-director steps behind the camera to tell a tale based on her own experiences. Glurjidze's debut, House Of Others, is a semi-autobiographical film that she calls "honest, gloomy but at the same time full of hope and light".
Set in Abkhazia, it dissects the experiences of two families devastated by war. Earning rave reviews since premiering in Karlovy Vary last July, House Of Others won the festival's East of the West award for features from the former socialist bloc.
Glurjidze's first forays into filmmaking, via short films Nocturne (1993) and Oscar (1996), saw the latter play at more than 15 film festivals.
She attended the Georgian State Film and Theatre Institute, moving into commercials and video clips after the break-up of the Soviet Union. She has been working as a producer for Cinetech since 2007.
Helene Hegemann - Axolotl Overkill
Germany's Helene Hegemann started writing at the age of 13. Her first play, Ariel 15, premiered at Berlin's Ballhaus Ost in 2007, and she made her first film, the 40-minute-long Torpedo, in 2008.
In 2010, at the age of 18, Hegemann continued her run of firsts with the publication of her semi-autobiographical debut novel, Axolotl Roadkill.
"The novel sold surprisingly well, and people contacted me wanting to buy the film rights, but I realised that I wanted to keep them," she explains. "I had the feeling that I wasn't done with the characters yet. I just couldn't give them away," she said.
Seven years later, Axolotl Overkill is her first feature. Bowing at Sundance in January, the film won the world cinema — dramatic cinematography award. It opens in Germany in June.
Amanda Kernell - Sami Blood
Graduating from the National Film School of Denmark in 2013, and with five shorts on her résumé since 2009, Amanda Kernell makes her feature debut with Sami Blood.
She became interested in filmmaking after interning with director Suzanne Osten at the age of 15. "Her way of processing difficult, existential and important topics through art, often related to her own life, was a great inspiration," Kernell explains.
Half Swedish, half Sami, she first delved into the latter's plight with 2015's well-received Northern Great Mountain. Sami Blood premiered in Venice Film Festival's Venice Days in 2016, winning Kernell the best debut director prize. It has enjoyed critical acclaim on the circuit, screening in Toronto, Sundance and Rotterdam, among other festivals.
Kernell is currently in post-production with short I Will Always Love You Kingen.
Neasa Ni Chianain - School Life
Coming to filmmaking after stints in textile design, advertising and art direction, Neasa Ni Chianain "meandered my way into the art and design side of the film world".
After working on film and television projects, the Irish director helmed her first documentary in 2001, No Man's Land. Her next three feature documentaries earned acclaim, awards and international play, with Frank Ned & Busy Lizzie winning the best feature documentary prize at the Celtic Film Festival in 2004, Fairytale Of Kathmandu receiving nods in Barcelona, Madrid and Ourense, and The Stranger premiering at Locarno in 2014.
Co-directed with David Rane, School Life, which steps into life at Ireland's last remaining primary-age boarding school, premiered at IDFA in Amsterdam last November, screened at Sundance and won a special jury prize in San Francisco.
Shahrbanoo Sadat - Wolf And Sheep
Afghanistan's first female feature filmmaker, Shahrbanoo Sadat is also the youngest director ever selected for Cannes' Cinéfondation Residence. Sadat was 20 years old when she began to develop Wolf And Sheep in 2010.
The film screened at the festival in 2016, winning the Art Cinema Award. Based in Kabul, Sadat studied filmmaking at French-run workshop Ateliers Varan Kabul.
Her debut short, Vice Versa One, screened in Directors' Fortnight at Cannes in 2011. In 2013, she directed documentary Not At Home with producer Katja Adomeit, which was nominated for the CPH:DOX Nordic Dox award.
Sadat is currently casting for her next film, with a 2017 shoot planned. It is based on the diary of her best friend, who was sent from a small Afghan village to a Russian orphanage in Kabul.
Teona Strugar Mitevska - When The Day Had No Name
Studying at New York University's Tisch School of Arts, Macedonia's Teona Strugar Mitevska made her debut in 2001 with Berlinale special jury prize-winning short Veta.
Her debut feature, 2004's How I Killed A Saint, was praised by critics; however, it was her next, 2008's I Am From Titov Veles, that took Mitevska to both the Berlinale, where it played in the Panorama section, and Cannes, where it screened in the ACID selection.
In 2012, she returned to Germany with The Woman Who Brushed Off Her Tears.
With When The Day Had No Name, Mitevska draws on a real-life crime from 2012. It is the first in a planned triptych of features about the social aspects of Macedonian society.
"As I developed the story, it became more evident this is exactly what I wanted to speak about — the atmosphere of violence in which the young generations have been growing," she says. "The death of these boys points to a larger issue, a deeper deviation, problematic in my society."
Claudia Varejao - Ama-San
Portuguese director Claudia Varejao studied film at the Calouste Gulbenkian Foundation, in partnership with the German Film and Television Academy Berlin, and then at Sao Paulo's International Film Academy. "I felt immediately enraptured," she remembers. "I felt in love. I think that was it."
In Lisbon, Varejao also studied photography at AR.CO, where she started to make her first short films — documentary short Wanting and fictional trilogyWeekend, Cold Day and Morning Light.
Over the course of 2016, Varejao made the leap to feature-length documentary filmmaking with In The Darkness Of The Theater I Take Off My Shoes. This was quickly followed by Ama-San, which played in the documentary competition at Karlovy Vary.
She was inspired to make Ama-San after reading about Japan's female pearl-diving community in poetry, and then receiving a scholarship to conduct a photographic survey in the country.