Feature marks Vinterberg's follow-up to The Hunt.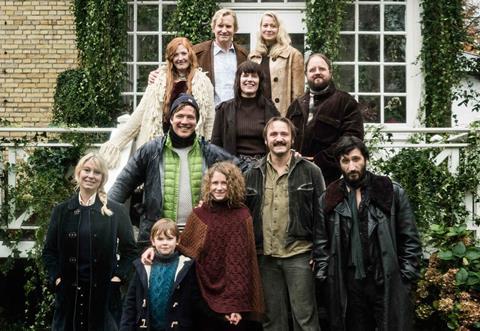 The first behind the scenes image of director Thomas Vinterberg with the cast of his latest feature, The Commune, has been released.
Set in the mid-1970s, the film is inspired by Vinterberg's colourful childhood in an academic commune north of Copenhagen.
The feature centres on Erik and Annam, an academic couple, and their daughter Freja who establish a commune in Erik's big box of a house in suburban Hellerup.
It promises to show "the dream of a true commune", with house meetings, dinners and parties. There is friendship, love, family and community under one roof.
But when Erik's mistress is allowed to move in, everything changes. As time passes and an epoch nears its end, reality intrudes, threatening to destroy the family, the friendship and the dream of togetherness.
Ulrich Thomsen and Trine Dyrholm, who both acted in Vinterberg's first two features, The Biggest Heroes and The Celebration (aka Festen), star as Erik and Anna, while 14-year-old Martha Sofie Wallstrøm Hansen makes her debut as their daughter Freja.
A few years ago, Vinterberg was flirting with the idea of making a film about a commune like the one he grew up in. Electing to test the material on stage first, the director premiered the play The Commune at the Burgtheater in Vienna.
Vinterberg wrote the play with Mogens Rukov and directed the production himself. A lot of the action and dialogue was improvised during the rehearsals with the Austrian actors. Adapting the play to film, Vinterberg wrote the screenplay with Tobias Lindholm.
The crew includes director of photography Jesper Tøffner and editors Anne Østerud and Janus Billeskov Jansen. Morten Kaufmann and Sisse Graum Jørgensen are producing for Zentropa in partnership with Toolbox Film and with support from the Danish Film Institute.
Trustnordisk is handling international sales and Danish theatrical release is scheduled for fall 2015.