Director Wang talks to ScreenDaily about working with Takeshi Kitano.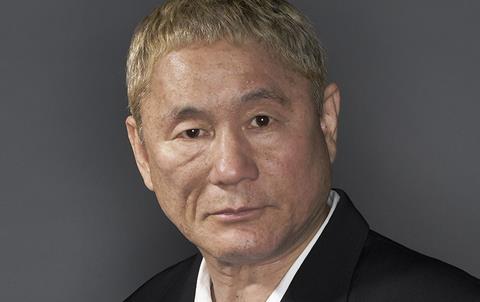 US-based director Wayne Wang, known for films such as The Joy Luck Club, Smoke and Maid In Manhattan, wrapped his shoot with iconic Japanese actor Beat Takeshi, a.k.a. Takeshi Kitano, for suspense mystery While The Women Are Sleeping in Tokyo on Saturday (July 11).
Kitano, the award-winning actor/director of films such as Zatoichi, Beyond Outrage and Hana-bi, uses the name Beat Takeshi when he works as an actor or performer.
Based on Javier Marias' short story of the same title published in The New Yorker, While The Women Are Sleeping debuted in early form at Busan's 2013 Asian Project Market.
Shot mostly in Izu, the film is about Sahara (Kitano), a mysterious older man who is at a resort with his young girlfriend. It is told from the point of view of Kenji, a writer who is also visiting the resort for a week with his wife. Although just curious at the beginning, he eventually gets sucked into Sahara's world of frightening madness.
Cast
Wang described working with Kitano to ScreenDaily: "I found Takeshi to be smart, instinctive and communicative in a universal film language.
"He fills the screen with authenticity and a quiet powerful presence - even when his back is to the camera. He simply demands your attention fully."
Hidetoshi Nishijima from Amir Naderi's Cut and Kitano's Dolls plays the writer Kenji while Sayuri Oyamada (Tokyo Trash Baby) plays his wife.
Shiori Kutsuna from Ken Watanabe's Unforgiven plays Sahara's girlfriend, while cult figure Lily Franky from Like Father, Like Son makes a special appearance.
Hirofumi Arai and Makiko Watanabe also feature.
Unusual for Japan
Yukie Kito, who also produced Wang's A Thousand Years Of Good Prayers and The Princess Of Nebraska, is the sole producer on his Japanese-language film.
Speaking to ScreenDaily, she said: "It is an arthouse-like film, which is unusual for Japanese films these days. Even with Takeshi, While The Women Are Sleeping is a unique project for Japan.
"It is not based on manga or a best-selling novel - the original story and its author are not yet well-known in Japan."
Kito is working with production company CAL, Co., Ltd., which is also making a documentary with her on the legendary Japanese star Toshiro Mifune, whose films include Rashomon and Yojimbo.
At a press conference shortly after the film wrapped shooting on Saturday in Tokyo, Wang said: "I have come to Japan very often and always appreciated the culture.
"I was introduced to Hidetoshi Nishijima and was convinced we can work together on this film. While developing the character with him, I wanted to make this film into a Japanese film, and Beat Takeshi came aboard to make it happen."
Local corporations Dentsu and Toei are among the main financiers.
Other credits
Toichiro Shiraishi is executive producer. Atsuhiro Nabeshima, who shot Kabukicho Love Hotel, is director of cinematography.
The story was adapted to screenplay by Michael Ray and Shinho Lee, while Mami Sunada finessed it for Japanese incorporation.
While The Women Are Sleeping started shooting in Izu on June 15.
The film is set for a 2016 release in Japan with Toei distributing.